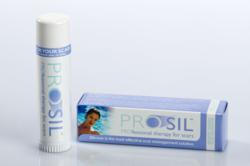 Pro-Sil is the only silicone therapy product available in a solid stick.
(PRWEB UK) 3 September 2012
Amred Healthcare responded to a gap in the availability of quality, medical-grade silicone scar treatment options in the UK by reaching out to US based Biodermis. Established in 1988, Biodermis has been recognized for its innovative contributions to the scar management industry for nearly 25 years. Amred is leading the introduction of Biodermis products with patent-pending Pro-Sil, in 4.25g and 17g sticks. The 17g Pro-Sil is scheduled for inclusion on the NHS Drug Tariff this November, 2012, making it available via prescription.
Pro-Sil is revolutionary in its niche market of convenient, silicone-based scar care options because of its solid stick formulation. Competing products utilize a silicone gel formulation, which is prone to drips/runs and a sticky texture, due to the viscous nature of liquid silicone gel. Pro-Sil's stick formulation has proven itself equally effective to gel products like Biodermis' own Xeragel. Pro-Sil is the only silicone therapy product available in a solid stick.
Medical grade silicone effectively provides a fully-encapsulating healing environment for scar tissue, and allows the ideal concentration of oxygen and moisture at the scar site. Silicone also provides smooth, even coverage across the scar and surrounding healthy tissue area. These factors help to keep the scar tissue pliable, allowing it to blend more completely with surrounding healthy tissue. The end result is a much improved scar that has a smoother, flatter appearance, and a more natural skin tone.
"This agreement with Amred Healthcare further solidifies our commitment to bringing our unique products to the UK market. Amred has an outstanding track record in the pharmaceutical arena, and we are confident in their ability to promote our proven line of medical scar care solutions, and uphold our high standard of customer service," says Dr. Jeff Schleuning, Ph.D., EVP Biodermis.
With a focus on its ongoing and developing partnership with Biodermis, Amred Healthcare expects to expand on their scar management offerings throughout 2012 and 2013.
Amred Healthcare, formed in 2012, is a Scar Management and Dermatology Specialist, recently designated as the official Biodermis distributor for the United Kingdom and Thailand. Amred Healthcare is committed to providing quality and clinically proven products to help in the treatment and management of scars and related dermatology issues. Amred Healthcare can be reached online at amredhealthcare.com or by phone at 033-0333-0079.