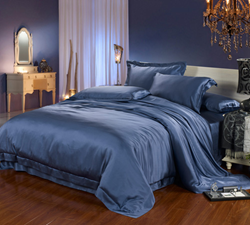 Los Angeles, CA (PRWEB) March 29, 2014
It seems that a growing number of people tend to spend a little more to purchase luxurious and comfy silk bed linen sets for their bedrooms. Under the circumstance, Lilysilk, a distinguished manufacturer and retailer specializing in silk bed linen sets, has introduced its premium-quality and 100% pure mulberry silk bed linen collection with 10% off discounts to customers worldwide.
The business aims to offer upscale silk sheets and pajamas for customers. All their products are made choosing from top-quality silk fabrics, the quality of which can not be found anywhere. 22 momme silk is subject to much more usage and to satisfy more demands from customers, such as durability, resistant to wear and tear. 25 momme silk is the best, while which is also the the most expensive. As a result, according to Mike Lee, it is the best option to purchase sheets and pajamas made of 100% 22MM pure silk.
Mike Lee is a reliable and responsible gentleman who is strict with himself to provide the best silk sheets and pajamas for customers. He said, "It is our duty to introduce our Chinese silk to the world. Most important of all, silk sheets and pajamas are really beneficial for human body. I feel it necessary to bring the delicate and gorgeous silk bed linen made of 22MM silk to our new and old customers. Once you touch silk, you will be spoiled and indulged."
Customer kallen miller said several days ago, "I ordered a sheet of 22 momme (higher grade than 19 momme) silk charmeuse. The sheet that arrived is beautiful & does test out to be the higher grade, 22 momme silk (the site sells both 19 & 22 mm options)."
Lilysilk store sells both 19mm and 22mm silk sheets. Mike Lee indicates that customers can choose from them according to personal needs. All silk sheets are of high quality at competitive prices.
Any more information about Lilysilk bedding store and its products and promotions can be accessed at: http://www.lilysilk.com/ or directly at: http://www.lilysilk.com/Silk-Bedding-Sets-2-c.