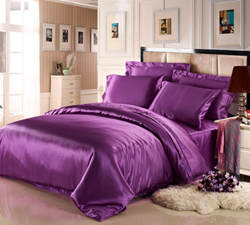 Quality guarantee is one of the biggest features of our products.
Porter Heights, TX (PRWEB) March 07, 2014
Lilysilk is a China-based company that offers high quality silk bedding wares at the lowest prices with fast delivery for customers at home and abroad. Yesterday, all its staff finished their Spring Festival holidays and came back to work. As a result, all orders now can be shipped within 3-5 working days.
"We insist on using high quality mulberry silk to make our bedding accessories. Guaranteed quality is one of the greatest advantages of our products," says Mike Lee, CEO of the company. The company makes its products available in many colors like warm gold, yellow, champagne, classic white, black, ivory, fresh blue, sliver and more, which exceeds what many customers expect. The company is aiming to bring a whole scale of colors for customers to choose from.
"We believe our silk bedding sets are something popular among people worldwide," Mike says with confidence.
The company makes efforts to take photos of its real products. Each detail of the products can be seen in the picture. "We show pictures of product details as clear as we can, so that all of you will exactly know what you are looking at." Mike Lee adds.
In addition, Lilysilk's customer service is really amazing; a customer named Philip said, "I have never met such a great website that has a 45-day no-hassle return policy. Their operators of live help are patient with my questions. I was really amazed at their fast and free delivery. It only took two days after I placed my order."
Lilysilk is proud of its high quality products and services. Anybody who is interested in their products can visit their official site: http://www.lilysilk.com/