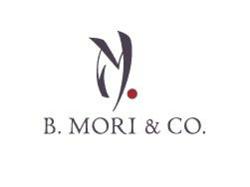 This new collection is a modern, fun interpretation of classic designs. B. Mori features the world's finest textiles, including their exquisite silks, which are offered in an extraordinary array of intricate designs and shimmering colors schemes
San Francisco, CA (PRWEB) October 28, 2011
San Francisco silk fabric company, B. Mori & Co. is introducing its new collection, Haute Monde, as part of the store's seasonal collection.
"This new collection is a modern, fun interpretation of classic designs. B. Mori features the world's finest textiles, including their exquisite silks, which are offered in an extraordinary array of intricate designs and shimmering colors schemes. B. Mori spins and dyes all of their silk threads. Then, in incredible detail, artisans skilled in the old-world tradition create hand-embroidered and hand-painted fabrics and wall coverings that elegantly express everything from nature's bounty to symbols of good fortune. B. Mori offers their own signature designs, as well an innovative custom program that allows you to choose a different color palette, or an entirely new design that B. Mori will execute to your specifications," said Christina Tse of B. Mori & Co.
Introducing the best trends in the industry since 1995, B. Mori is famous for its variety of fabulous fabrics it offers to customers. It has been offering products that suit the trends of every season, bringing style and elegance into every home.
Following along with its history of providing quality products to the community, they are now offering Haute Monde, a collection featuring exquisite silk fabric blends suitable for the home and for the hospitality industry that can be used for upholstery fabrics, curtains, drapery, and wall coverings.
B. Mori's new collection provides exquisite and quality designs and intricate colors that would put a modern and stylish look into every home's interior.
For more information about B. Mori, call (415) 655-1579 or visit their website at http://www.bmori.net.
About B. Mori & Co.
B. Mori is a home furnishings and fabric showroom that specializes in contemporary and antique home furnishings imported from Europe and the Far East. Specializing in designer-driven, often one-of-a-kind creations, B. Mori provides an expansive yet intimate setting with spacious worktables where clients can work directly with their designers, artisans, and staff to actualize the their personal vision.
# # #