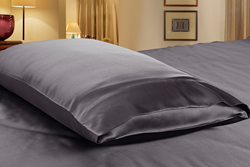 I bet all of you will love this beauty set once you touch them.
Fullerton, CA (PRWEB) July 21, 2014
Lilysilk, the world's leader in silk bedding industry, has recently released its new products to its Beauty Collection. Silk cocoons are brand new at this website. Now, the company is announcing great discounts on these silk cocoons and its best-seller silk pillowcases. Customers who buy silk pillowcases at Lilysilk can get 1 pack of silk cocoons for free. According to the company's website, the promotion is valid until July 28, 2014.
Silk pillowcases from Lilysilk bedding store are only made from 100% pure mulberry silk, and of which quality is second to none. Many returning customers would like to introduce these high quality silk pillowcases to new customers for their soft and smooth silk touch, gorgeous looks and delicate craftmanship.
Silk cocoon is a compound found in many anti-aging creams, containing the protein sericin. Silk cocoons can help promote metabolism, nourish the skin to leave it feeling comfortable, supple and radiant. It is especially effective on pores around the oily T-zone of nose and forehead.
Now, these silk pillowcases and silk cocoons are available under the promotion. Customers could get the double care for skin only by paying for the silk pillowcases. Mike Lee, the CEO of Lilysilk store, said, "We take pride in providing silk pillowcases and silk cocoons to ladies and gentlemen, and now, they can enjoy the double care for the skin at affordable prices. I bet all of you will love this beauty set once you touch them."
Additionally, the company is running a promotion on its silk sheet sets, 10% off. People who do not want to feel "heavy" in summer could visit the store to purchase these top-quality silk sheet sets and silk comforters.
Lilysilk is a well-known manufacturer and retailer of high-end silk bedding sets and silk pajamas. For more information, please visit: http://www.lilysilk.com.