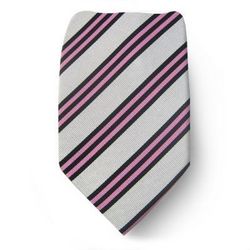 I was frustrated of going locally to shop for my neckties only to spend $50 every time to find a half-decent looking tie
Montreal, Qc (PRWEB) October 9, 2009
The-Perfect-Necktie.com, a new online neckties superstore launched this October 2009. Just in time for Christmas season, The-Perfect-Necktie.com has more than 2000 men's silk ties and bow ties to choose from and with many of them falling under the $20 price range. The site has a wide variety of silk ties letting you shop by color, by fashion style and even includes a section to commemorate school affiliations.
This is the ideal website to find university themed cufflinks or neckties and also the best place to find a great silk necktie that will make anyone stand out during that tough job interview or even better, on a stressful first date. Here are a few tips: try a bold red tie to make a big impact or a sophisticated sleek black tie to charm your way into a conversation.
The-Perfect-Necktie.com is fully dedicated to bringing men the very best of quality when it comes to their neckties and bow ties. Only the finest materials are used in all of their products giving their customers extremely high value for their dollar. By spending $17 on a necktie, customers will feel like they've actually spent over $50. All of your favorite brands can be found, from Jerry Garcia to DKNY and Tommy Hilfiger.
"I was frustrated of going locally to shop for my neckties only to spend $50 every time to find a half-decent looking tie," said Alain Picard, owner of the business. "The-Perfect-Necktie.com really does offer the perfect necktie for every guy that wants to make a good impression or a big impact."
To celebrate the opening of The-Perfect-Necktie.com, all clients can enjoy 10% off their entire order. This coupon is available until November 2009. Use the coupon code "perfect" without the quotes to get your special sale price at The-Perfect-Necktie.com! (Note: Free shipping can also be combined automatically on purchases over $75)
###