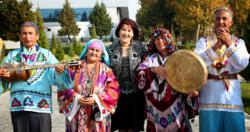 Chester, NJ (PRWEB) May 30, 2013
As a result, it was decided to establish a single registration process for all industry players, including tour operators, hotels, tourist centers, recreation areas, resorts, organizations and institutions working in the field of tourism. It was also decided to introduce road signs in English, German and other foreign languages at airports, railway stations, main tourist cities and on highways.
According to Silk Road Treasure Tours, by supporting regional tours and offering new travel programs Uzbekistan as one of the five countries comprising Central Asian region will significantly increase the grade of incoming tourism. These travel programs for the tourists will create favorable conditions and enhance the interest of travelers to the region.
Central Asia rewards the intrepid and the curious. The five nations which make up the region are eager to welcome visitors. Travelers can share a cup of tea with some of the warmest people in the world and take part in traditional weddings and festivals where visitors are honored guests. "The local experts at Silk Road Treasure Tours know the perfect sites, the hidden gems, the right people, and the best time to go," -says Zulya Rajabova, president of Silk Road Treasure Tours who was named a Condé Nast Top Travel Specialist for Central Asia in 2012. Visit http://cntrvlr.com/zulya
Visitors can enjoy the fabulous Silk and Spice festival in Uzbekistan presenting the best of Uzbek dance, music, arts, crafts and cuisine in historic Bukhara or become a part of traditional, regional, and world music concerts in Kazakhstan, rousing equestrian events and competitions in Turkmenistan, celebrations of nomadic life in Kyrgyzstan, or the New Year's Navruz events in Tajikistan. These exuberant displays of life can be found all year round throughout Central Asia.
For those whose interests run to the outdoors, this is the ultimate playground. The stunning landscapes of peaks and gorges, glittering lakes, and verdant valleys offer rare wildlife and falconry experiences, some of the finest sporting and trekking opportunities, expeditions on white water, fresh powder snow, through the Kyzyl-Kum Desert or to the flaming crater of Darvaza. Tourists can ride the original two-humped, four-legged SUV and stay overnight in a yurt with the local nomads.
Travelers to this part of the world are finding an experience unlike any other. Customized tours, flexible planning, and full-service care pre and post-trip are the order of the day for many touristic companies operating in the region to ensure that visitors get the most out of the travel. Silk Road Treasure Tours led by Zulya Rajabova is one of the few travel companies whose network of skilled, multi-lingual guides and consultants will craft the perfect itinerary and make travel dreams a reality. A native of Uzbekistan and now long-time resident of the U.S., she puts her years of experience to work creating smooth, worry-free travel.