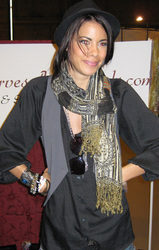 We guarantee satisfaction to all of our customers
Castle Rock, Colorado (PRWEB) December 15, 2008
FashionScarvesAndShawls.com supplied the celebrity style scarves and shawls for this Connect event. This top rated website attends events catering to a wide range of Hollywood stars from television stars to film stars. The scarves and shawls presented at these Celebrity events and to all of FashionScarvesAndShawls.com clientele are of the finest quality and most prestigious materials.
"Our selection on women's and men's scarves and shawls are truly unique," said Meryl Rougeaux, owner of Fashion Scarves and Shawls. "We sell the perfect fashions for all." The many different accessories sold at Fashion Scarves and Shawls are exquisite. They sell silk scarves, shawls, wraps, velvets, fur, cashmere, ponchos, capes, belts, hats, pins, brooches, jewelry, purses, and men's scarves. The men's scarves include the extremely popular silk aviator scarves. No matter the accessory, the products you desire made from the materials you crave are found here at Fashion Scarves and Shawls.
"We guarantee satisfaction to all of our customers," stated Rougeaux. "We are extremely confident in the quality of our scarves and shawls. You will not find a better selection at a better price."
The accessories offered to the potential customers at this highly rated website are made for those with expensive tastes in fashion without the expensive price. The elegance these magnificent accessories add to any outfit is beyond compare. The scarves and shawls will make any fashion even classier just by the addition of these accessories. The scarves and shawls are made to impress you without the high price. The reasons for purchasing these scarves and shawls are numerous, but if you purchase these accessories, the reasons will become apparent because these quality products speak for themselves.
When seeking the most chic, most stylish scarf, purchase a product that will gratify your desires. Look your best with the best scarves and shawls. Be seen wearing the same stylish scarves worn by the rich and famous. Whether you are a celebrity, a modern day fashionable woman, or a trendsetting man... then this unique website has the perfect accessory for you.
About Fashion Scarves and Shawls
Fashion Scarves and Shawls present scarves, luxurious shawls, and many more high quality material accessories for women and men alike. They sell products from the best manufacturers and the best companies with the superior accessories.
Contact:
Meryl Rougeaux
Owner, Fashion Scarves and Shawls
1-800-510-5369
# # #