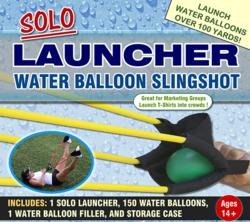 Our 4 water balloon launchers support children of all ages, teenagers, and adults.
Denver, Colorado (PRWEB) May 30, 2011
SillyTown.com announces the addition of a new Solo launcher as an alternative to the standard 3-person launcher. Individuals can now use their feet to create their personal water balloon slingshot.
As the first online retailer of water balloon launchers, Sillytown.com continues to offer the top selling water balloon launchers at affordable prices since 1994. SillyTown.com customers include schools, youth organizations, youth ministries, professional / college sports groups, US Military Troops, and theme parks. "We focus on quality," said Jones, owner of SillyTown.com. "We have consumers using our water balloon launchers that were purchased over 10 years ago."
Used by schools and youth organizations, SillyTown.com launchers can help teach examples of science, exhibiting how different angles and velocity will determine the target location. Flying T-Shirts are favored by all sports fans, and SillyTown.com launchers are continually used at sporting events to sling marketing materials into crowds.
SillyTown.com provides wholesale products for toy stores and online vendors throughout the United States. Offering three different sizes of 3-person slingshots allow children, teenagers, and adults to join in the fun. Visit http://www.SillyTown.com for more information.
Always be responsible when using SillyTown.com water balloon launchers, never aim at or near people or property, and always use eye protection.
# # #