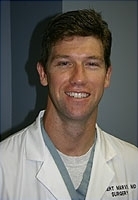 SILS postoperative is less painful and recovery periods are tremendously faster.
Houston, TX (PRWEB) February 1, 2010
A new weight loss surgery technique known as SILS – single incision laparoscopic surgery – is now available for some bariatric operations, including the Adjustable Gastric Band (AGB) and the Laparoscopic Sleeve Gastrectomy (LSG). It involves performing the entire procedure through a single small incision, ideally at the umbilicus (belly button).
SILS is usually less painful than standard laparoscopic surgeries (4-6 small incisions), and the cosmetic effect is thought to be superior. Some obesity surgery cases still need a balance of diet and exercise after the surgery to maintain long term results.
SILS weight loss surgery is done under general anesthesia with the patient completely asleep. A small incision is placed at the umbilicus and either 3 standard trochars (tubes through which the instruments are passed) or a single specialized SILS port is placed to gain access to the abdominal space. The space is then insufflated with carbon dioxide to create enough room to manipulate the instruments.
SILS requires specialized instruments that are able to articulate (bend into angles), and a novel camera that can be turned to a variety of angles. The operation is done using the same methods as the regular laparoscopic surgery. For the AGB procedure a tunnel under the skin and fat layer is created to place the port for later band adjustment. This is required to move it away from the umbilicus.
Postoperatively, the patient will only have one incision, usually with less pain than a weight loss surgery with 4 to 6 incisions. Also, as the scar heals and contracts it usually becomes less noticeable as it is partially hidden by the umbilicus. Most weight loss patients feel this has a better cosmetic result.
Not all patients can have the SILS approach. It is best used in patients of lower weight (BMI of 35 to 45) and whose body habitus (the physical and constitutional characteristics of an individual) is favorable. This depends on the individual patient and their surgeon's judgment. Body mass index (BMI) is a measure of body fat based on height and weight that applies to both adult men and women.
BMI-Body Mass Index formula is a specific calculation. For basic understanding of the BMI, here is a simple example. A person who is 5'5" to 6'0" with a weight of 225 to 300 pounds could be a possible SILS candidate. For each 7 to 8 pounds of body weight, they will get 1 point of BMI. So, if you divide 250 pounds by 7 you will have an estimated BMI of 36.
If you are dealing with obesity or are interested in the SILS version of either the AGB or the LSG operations, please ask your Houston surgeon prior to starting the process to qualify for Houston weight loss surgery in Texas. There is also the option of a gastric bypass surgery for people with higher BMI.
Houston Surgical Specialists
Operating on a Personal Level
(713) 993-7124
Houston, Texas
PR by Business Oceans -Business Marketing Services and Houston SEO
###