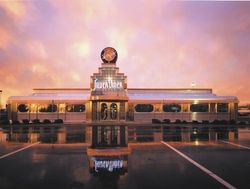 The Rockville location has meant so much to so many people in the area, and we want to give it the proper send-off
Rockville, MD (Vocus) October 10, 2010
Silver Diner, the local MD, VA and NJ restaurants offering families high-quality, healthy meals in a classic diner atmosphere, announced the grand re-opening of its Rockville location and company headquarters. The new $3.5 million+ expanded diner will officially open on November 2 in Federal Plaza, a quarter mile down Rockville Pike. Leading up to the opening, the company has asked fans to remember the original Rockville location and share their stories on Silver Diner's Facebook page.
Silver Diner Founders, Bob Giaimo and Ype Von Hengst, designed and opened the Rockville Silver Diner in 1989. For more than 20 years, it has been a part of the DC metro area's history, serving more than 10,000 customers a week around the clock, which makes it one of the busiest restaurants of its size in the country. The new Silver Diner integrates the best of the 1950's retro décor including tabletop Seeburg Jukeboxes with modern features including free Wi-Fi, additional seating and an enhanced kitchen. The new location features a 30 foot high rotating clock tower atop the gleaming stainless steel and neon next generation diner.
"The Rockville location has meant so much to so many people in the area, and we want to give it the proper send-off," said Robert Giaimo, co-founder and CEO of Silver Diner. "'Share Your Stories' allows customers to share and read the experiences that have made Silver Diner a true Rockville icon as well as look forward to making even more wonderful memories at the new location."
Silver Diner fans can visit the restaurant on Facebook, and share their stories, pictures, videos and other memories on the official Rockville memory wall. Each story will count as one entry towards a random drawing to win a working Vintage-style Table Top Jukebox that plays MP3, CD and FM radio and is similar to those found on each Silver Diner table. Additionally, fans will have an opportunity to sign up to receive more information.
All Silver Diner locations now boast a Fresh & Local menu with ingredients sourced primarily from local farms to offer eggs, milk and produce, and even coffee roasted just a few hours away. The restaurants recently launched new fall seasonal items featuring Sweet Potato Fries, Pumpkin Shakes, Fresh Basil, Tomato, & Local Goat Cheese Omelette and Cajun Atlantic Cod Fish.
Silver Diner's social media sites offer fans of the family-friendly local restaurants information about the new Fresh & Local menu, special offers for each location and community initiatives such as its Eat Well, Do Well program, which donates a portion of its proceeds towards preventing childhood obesity by improving school lunch and fitness programs Silver Diner currently has linked 75 schools with approximately 45,000 kids and expects to donate $150,000 this year to the schools.
About Silver Diner
With 18 restaurants in Maryland, Virginia and New Jersey, Silver Diner, still operated by its original founders, is the neighborhood restaurant for families seeking a broad selection of classic and healthier choices. The Diner offers classic American Favorites prepared with fresh and local ingredients. Guests get a high quality family dining experience in a retro-cool diner atmosphere.
For more information and to view the complete directory of locations visit http://www.SilverDiner.com. Visit Silver Diner on Facebook or follow @Silver_Diner on Twitter for the latest information and deals.
###