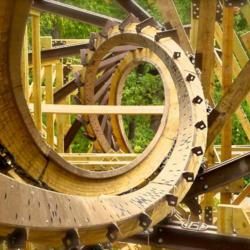 The [world's] only wooden roller coaster to feature an upside down twist including a 720 degree double barrel roll
Branson, MO (PRWEB) August 14, 2012
Thousand Hills Resort and other places to stay in Branson Missouri are welcoming the newest thrill ride announcement from Silver Dollar City amusement park. On Thursday Silver Dollar City publicly announced their newest roller coaster, Outlaw Run, arriving in time for the 2013 season.
According to a Silver Dollar City spokesperson, Outlaw Run is a wooden roller coaster that has been under construction for several months at the frontier themed park just west of Branson. The coaster cost nearly ten million dollars and is being built by well known coaster designers, Rocky Mountain Construction. Outlaw Run will have several features that are being billed as world firsts including an 81 degree drop which is the steepest drop on a wooden coaster and the only wooden roller coaster to feature an upside down twist including a 720 degree double barrel roll. Park officials also say that the roller coaster will be the second fastest wooden coaster in the world, reaching speeds up to 68 miles per hour. Riders will take nearly 90 seconds to make a full circuit of the track.
Silver Dollar City officials were also quick to note that despite the wooded hills that the Ozarks are known for, the coaster construction process was quite environmentally friendly. For every tree that was cut down during construction, 2 more were planted. In addition, the natural terrain was used to enhance the overall coaster design. Outlaw run is able to feature a sixteen story drop despite only being constructed ten stories high due to the existing slope of the area in the park.
Local Resorts such as Thousand Hills resort say they are also preparing for the new roller coaster. Due to the buzz surrounding this new attraction, Silver Dollar City officials are expecting more than 65,000 additional visitors in 2013. These additional visitors will bring a noticeable boost to most Branson hotels, restaurants and other local businesses.
Silver Dollar City is an 1880's themed amusement park in Branson, Missouri which has been in operation since 1960. Silver Dollar City is the flagship park for Herschend Family Entertainment which owns, operates and partners with 25 properties in ten states.
Thousand Hills Resort has offered nightly rental lodging in Branson, Missouri since 1991 including log cabins, golf front condos and lake front condos. Thousand Hills has been awarded a 3 Diamond AAA rating, a Trip Advisor Certificate of Excellence, and more awards for outstanding comfort and customer service.