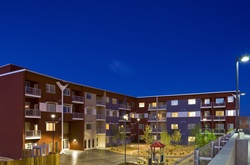 Silver Gardens is a huge asset not only to Downtown but to the City as a whole
Albuquerque, NM (Vocus) May 18, 2010
Silver Gardens, New Mexico's first affordable housing development designed to achieve LEED® Platinum certification, celebrated its grand opening today with Mayor R.J. Berry and other Albuquerque dignitaries. A smart growth project located across from the Alvarado Transit Center, Silver Gardens is a key component of the Downtown Revitalization Plan and a model solution to high energy and transportation costs impacting low- and middle-income residents today.
"Silver Gardens is a huge asset not only to Downtown but to the City as a whole," said Mayor R.J. Berry. "The project's affordability as well as its 'green' attributes make it the type of housing project the City supports. Congratulations to everyone involved."
The first phase of Silver Gardens opening today consists of 66 energy-efficient rental apartments for low- and middle-income families. The project is co-developed by the Supportive Housing Coalition of New Mexico and Romero Rose, LLC, the Albuquerque affiliate of Jonathan Rose Companies, the leading developer of green urban affordable housing in the U.S. Sited on a reclaimed brownfield, Silver Gardens is a highlight of the Downtown Redevelopment Plan, which specifically seeks to add more residential units to Downtown Albuquerque. To date, almost 70% of the apartments have been leased.
"Opening Silver Gardens is a critical piece of the next phase of our downtown redevelopment," said Brian Morris, Executive Director of the Downtown Action Team, the non-profit revitalizing Downtown Albuquerque. "This project is exactly what we hoped we would attract when creating our master redevelopment plan. A strong residential component is critical in downtown redevelopment."
Silver Gardens is the first affordable housing development in the nation to receive funding for carbon offsets. In 2008, The Enterprise Green Communities Offset Fund purchased offsets for at least 330 tons of carbon dioxide that will not be released in to the environment due to the green design and construction of Silver Gardens. Green features of the pioneering development in downtown Albuquerque include: rainwater harvesting; the use of recycled and recyclable material throughout; ENERGY STAR® appliances in every unit; and xeriscaped landscape design with slow-growing, drought tolerant plants to conserve water and reduce yard trimmings.
Apartment amenities include: exceptional views, private balconies, an on-site fitness center, a common room for residents to enjoy , and covered bicycle and automobile parking. Located across the street from the Alvarado Transit Center, Silver Gardens provides tenants with easy access to bus and rail service throughout Albuquerque and the region.
"It has been a long journey from where this project started – a vacant brownfield – to moving residents into their new homes," said Theresa Bell, Managing Partner of Romero Rose, LLC. "Collectively, our team has worked hard to produce a building that is healthy, energy efficient and close to transportation and services – all of which will benefit the people who live there. We really believe Silver Gardens will be a vibrant community, with neighbors who appreciate each other and programs that enrich their lives. "
"Silver Gardens is a model transit-oriented, mixed-income, green solution to the changing climate that will enrich downtown Albuquerque for years to come," said Jonathan F.P. Rose, President of the Jonathan Rose Companies. "This project could not have happened without our extraordinary public-private partnership with the City of Albuquerque, and the support of MFA, numerous state and city legislators, and the Governor."
The $12.5 million Silver Gardens offers 5 studio apartment, 46 one-bedroom apartments and 15 two-bedroom apartments. Eighty-five percent of the apartments are affordable for people earning 30 – 60 percent of the area median income. Those apartments range from 445 to 934 square feet and will rent from $288 to $764 per month. The remaining market-rate apartments will range from $650 to $1,200 per month.
Silver Gardens has a U-shaped design, and the roof was carefully crafted to slope on each side to collect rainwater and disperse it to the enclosed 15,000 square-foot courtyard via a 5,000-gallon underground cistern. Additional design components included to enhance the project's green profile include superior insulation, low or no-VOC finishes, FSC-certified wood framing, high-efficiency HVAC systems, oversized operable low-E windows, high-efficiency plumbing fixtures, and Energy Star® appliances and lighting. These advances are part of the project's design for achieving for LEED® Platinum Certification through the LEED for Homes Midrise Pilot Project, which will make Silver Gardens one of only five such properties nationwide.
The apartments have also achieved Enterprise Green Communities Certification, and are included in the EPA's ENERGY STAR® Multi-Family High Rise Pilot Program, both of which indicate a positive opportunity for families to seize money-saving opportunities on utility bills and support the further reduction of their carbon footprints.
The courtyard features a unique spiral vortex design based on the Chaco culture sundial. The sculpture's stacked stone represents the region's early architecture. The idea of the spiral going down into the ground and being below the surface comes from the kiva. The pole element of the earthwork is common to North American tribes from Alaska to Taos to Mexico and symbolically connects the earth to the sky. Moreover, it acts as a sundial and marks the changes of the shadows throughout the year with the change of seasons.
Silver Gardens was funded by Federal Low Income Housing Tax Credits, the New Mexico Mortgage Finance Authority (MFA), the City of Albuquerque, and Los Alamos National Bank. The project received grants from the Home Depot Foundation and the Enterprise Foundation. Governor Bill Richardson and several New Mexico legislators also aided in providing funding from the State of New Mexico. The architects on the project were Claudio Vigil Architects of Albuquerque and Oz Architecture of Denver. The project is part of the Alvarado Transportation District Master Plan created by Calthorpe Associates. The design elements created and implemented in the courtyard of Silver Gardens are by New Mexico artists and designers Nocona Burgess and Alejandro Ortiz.
For more information on Silver Gardens, go to http://www.silvergardensapts.com .
About Jonathan Rose Companies:
Jonathan Rose Companies LLC is a multidisciplinary planning, owner's representative, development and investment firm whose mission is to repair the fabric of communities. The firm works with cities, not-for-profit organizations and private clients to develop creative solutions to real estate challenges. Jonathan Rose Companies has offices in the East Coast, Southwest and Rocky Mountain regions. Romero Rose, LLC is the Albuquerque affiliate of Jonathan Rose Companies. For more information on Romero Rose and Jonathan Rose Companies, go to http://www.rosecompanies.com.
About the Supportive Housing Coalition of New Mexico Inc.:
The Supportive Housing Coalition of New Mexico is a statewide non-profit housing organization incorporated in 1996. Based in Albuquerque, the Coalition represents a formal collaboration among some of New Mexico's oldest and respected providers of homeless and behavioral health services. For more information on the Supportive Housing Coalition of New Mexico, Inc. go to http://www.thehousingcoalition.org.
Contact:
Joanie Griffin
505-261-4444
jgriffin(at)griffinassoc(dot)com
###