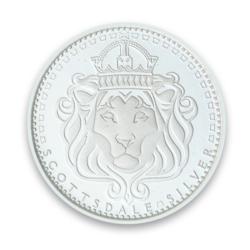 Despite a relatively calm period in the silver market over the past six months, recent demand suggests many private investors are speculating the silver price is long overdue a price correction
Birmingham, West Midlands (PRWEB) April 18, 2012
Scottsdale silver are considered one of the world's leading silver bullion producers, each product is carefully crafted to a high quality finish. The Gold Bullion Company have taken delivery of a selection of fine .999 silver coins, including Omnia 1oz Silver Rounds and 1oz Silver Buffalo Rounds; and silver bullion bars ranging from one ounce up to five kilograms.
Standout products include the five ounce Silver Prey bar. Complete with 'rough cut' finished sides and edges, each 5oz .999 fine silver bar features the impressive die tone Scottsdale lion icon, with a stunning flowing print design to the reverse.
Each Scottsdale Silver bar and coin is dispatched complete with a full certificate of authenticity to guarantee both weight and purity of the silver content.
Despite a relatively calm period in the silver market over the past six months, recent demand suggests many private investors are speculating the silver price is long overdue a price correction; From a 12 month high at £29.26 troy oz on 28 April 2011 to a relative low end of year at £17.01 troy oz on the 29th December 2011, the silver price has since averaged around the £20 troy oz mark throughout the first quarter of 2012.
Against its golden counterpart, the silver to gold price is running at a ratio 52/1, a long way from its historical 15/1 trend. With future demand for silver from eco technology sectors (think solar panels) and traditional applications in a recovering manufacturing industry, silver looks like it may have renewed potential for private investors! Just don't forget, in the UK, Silver Bars and Coins incur the standard rate of VAT.
The Gold Bullion Company is one of the UK's leading bullion dealers, providing customers the opportunity to buy and sell gold and silver bullion online by Visa or MasterCard, in addition to and direct electronic bank transfer. Every order is delivered free of charge, next business day, fully secure and insured.