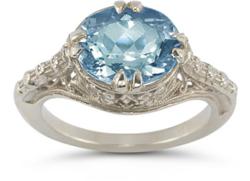 "A word fitly spoken is like apples of gold, in settings of silver" (Proverbs 25:11, NKJV).
Los Angeles, CA (Vocus/PRWEB) April 04, 2011
Although Apples of Gold, the online jewelry company, boasts over 5,000 pieces in its collection, most recently it is their newest line—the sterling silver collection—that sparkles and shines. While gold, diamonds, and gemstones will always be the Apples of Gold forte, sterling silver has its own unique appeal. And for jewelry buyers looking for a little luxury in a lulled economy, sterling silver provides an affordable option.
Apples of Gold distinguishes itself in the jewelry market for its ethical pricing principles and commitment to Biblical values. Sterling silver fits into the company's value-based philosophy while maintaining the integrity of the their signature Scripture verse: "A word fitly spoken is like apples of gold, in settings of silver" (Proverbs 25:11). With an eye towards value and quality, Apples of Gold is proud to introduce their line of sterling silver jewelry, with pieces that have been hand-picked for both beauty and affordability.
The new Apples of Gold Sterling Silver Collection features only the finest in .925 sterling silver. Signature pieces include sterling silver cross pendants, fashion rings, earrings, sterling and gemstone rings and pendants, and also many pieces that combine silver and gold. Several items have been crafted by acclaimed jewelry artists and hail from exotic locations such as Hawaii and Israel, giving them a stylish, dramatic flair. As Spring is the season of many first communions and confirmations, sterling silver cross pendants and religious-themed selections take center stage. The line features options to suit a myriad of style and budget preferences.
Says Apples of Gold, founder, Afshin Yaghtin, "While our core focus remains gold, diamonds, and gemstones, we have enthusiastically enjoyed hand-selecting fine sterling silver jewelry pieces that reflect our core beliefs and values. In the upcoming months, we will be adding hundreds of new, contemporary sterling silver pieces!"
# # #