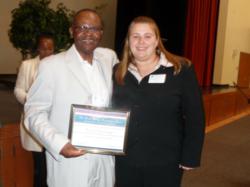 We are extremely proud to have Emmanuel as part of our Silverado family and to honor him for this much-deserved recognition
Dallas, TX (PRWEB) November 04, 2011
The R.J. Roper Caregiver Conference is an annual event, designed to recognize the efforts and value of professional caregivers in the Greater Dallas area. Now in its eighth year, the Alzheimer's Association awards program recognized 12 individuals for their outstanding effort in providing care for those with memory-impairment. Each honoree was presented with a $1,000 endowment.
Emmanuel Nziramasanga, one of the 2011 Caregiver Award-winners, is a Personal Attendant with Silverado At Home - Dallas, a local home care and Life Care Management provider. Since 2008, Emmanuel has served as a caregiver for memory-impaired seniors living at home and has logged countless hours as a volunteer for several rehabilitation centers.
"Emmanuel's flexibility, creativity, and innovative techniques set him apart from other caregivers," explains Silverado At Home Administrator, Kathryn Bennett. "He is able to morph into any role to meet the person where they are cognitively. He has alternately served as a personal shopper, driver, cook, teacher and companion for many of our clients."
Kathryn also shares that in a recent conversation, Emmanuel was asked what goal he would like to set for himself in the coming year. His response was, "to provide education and assistance for other caregivers in the community; to teach them redirection techniques and to help them learn about gently managing difficult behaviors."
His compassion and commitment to enhancing the lives of the memory-impaired is a testament to Silverado's goal of changing how the world cares for them. Kathryn added, "We are extremely proud to have Emmanuel as part of our Silverado family and to honor him for this much-deserved recognition."
Silverado At Home is a subsidiary of Silverado Senior Living, a memory-care assisted living provider that offers care for individuals with various forms of memory-impairing diseases. Through their continuum of care, Silverado also provides home care, Life Care management, and end of life services through Silverado At Home and Silverado Hospice.
###