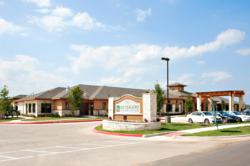 Austin, TX (PRWEB) June 17, 2013
A former building director for the city of Victoria, near the Texas gulf coast, Mr. Fox has always been a social, loving and active individual. But when Mr. Fox was diagnosed with Alzheimer's, and his symptoms began to progress, his family realized it was time to consider a long-term option for care.
"For the last year and a half he has lived at a nursing and rehabilitation facility," explains his daughter Donna. "… [but] after careful consideration, evaluation and many prayers, I knew I had to find a place that would focus on his future and long-term memory care."
Silverado memory care communities offer exceptional care and unmatched service to those affected by Alzheimer's, Parkinson's and other forms of memory loss.
"I walked in and I was home," continued Donna. "Silverado's philosophy, highly skilled and trained staff and the home-like environment is providing the care I want for Dad. [At Silverado], there has not been one individual that I have met that is not fully committed and has a passion for the job they are performing."
Following a seven month construction period and its official state licensing, the purpose-built community has begun accepting new residents at the 90 bed location.
"We have the most passionate and dedicated staff, who serve people with all types of memory care needs," explains Silverado President, Chief Executive Officer and Chairman Loren Shook. "The gratitude of our new residents and families is testament to Silverado's high-quality standards, but also evidence of our commitment to exceptional care – which strives to renew purpose and meaning in life."
Silverado – Onion Creek, the organization's first memory care community in Austin and eighth in the state of Texas, is located at 11330 Farrah Lane, Austin 78748.
Shook explains, "We are excited to provide our new residents with this state-of-the-art community, designed with innovations resulting from Silverado's 16 years of operational knowledge, from a team of professionals dedicated to serving the memory impaired."
With a distinctive model that combines the social benefits of a community lifestyle and the attention of around-the-clock clinical care, Silverado's focus is on enabling the best quality of life for its residents, families and associates. Learn more at silveradosenior.com/onioncreek
About Silverado:
Silverado is a nationally-recognized provider of home care, memory care and hospice services. With locations in eight states – including Arizona, California, Colorado, Illinois, Texas, Utah, Washington and Wisconsin – Silverado delivers exceptional care and unmatched service to address the spectrum of changing needs, for individuals and families alike.