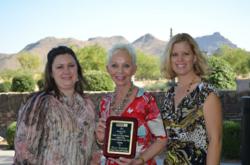 Scottsdale, AZ (PRWEB) June 26, 2013
Originally from Iceland, Helga first came to the U.S. in the 1970s to reunite with her biological family. She planned to stay for the summer to reconnect with her birth mother and three siblings, but as fate would have it, she was offered a modeling contract and decided to extend her stay indefinitely.
As time went passed, Helga shifted career path. She went on to work as an image consultant and later opened her own catering business. Yet, she still felt unfulfilled on a deeper level. Reflecting back on fond experiences with her grandparents, and on time spent with her grandfather who was diagnosed with Alzheimer's at age 80, Helga decided to begin volunteering at senior centers in the Scottsdale area.
"He, and other senior citizens like him, were not being treated with the dignity and respect they deserved," Manzone recalls. "So I felt compelled to make a difference."
Helga began volunteering at senior daycare centers before discovering the Silverado – Scottsdale memory care community in 2009. She remembers, "As soon as I entered, it felt like home. The atmosphere was engaging."
Helga volunteered for several months and eventually joined Silverado as a full-time engagement assistant, where she helped develop and coordinate activity programs.
"Silverado communities are dedicated to giving life to those affected by Alzheimer's and other forms of memory loss," explains Silverado Administrator Amber McCord. "For us, this means going beyond the basic provision of care to develop engagement programs that enable residents to maintain purpose and passion in life."
Within a few short years, Helga had made a tremendous impact on the lives of the community's residents and their families, and was soon promoted to the Director of Resident Engagement position – to lead the development of new programs, such as the Silverado Rotary Club and the specially-designed Music Therapy program.
"When I come to work at Silverado, I enter the world of our residents and encourage them to participate in the development of our programs," says Manzone. "My goal is to provide experiences that reflect our residents' individual interests, to bring them happiness from moment-to-moment, and ultimately, to help enrich their quality of life."
Helga's recognition as Arizona ALFA's Activity Director of the year comes as no surprise to those who interact with her on a daily basis, or to the families who frequently praise her selfless devotion.
"We are extremely proud of Helga's statewide recognition," explains Silverado President, Chief Executive Officer and Chairman Loren Shook. "She is an example of Silverado's exceptional leaders and of our highly engaged associates who are committed to going above and beyond for those we serve."
In addition to her work with engagements, she goes out of her way to accompany residents without frequent visitors during mealtimes and makes sure to interact with every resident on a daily basis – even if it's just for a quick one-on-one sing along. She also selflessly volunteers to work holidays, to allow her fellow colleagues to spend time with their families.
"My gift, my calling, is being able to get that connection with our residents, even if just through eye contact," says Manzone. "To see an expressionless resident light up makes my whole day worthwhile."
Helga is a testament to Silverado's core values and the epitome of Arizona ALFA's Shining Star Award, given to those who go above and beyond their professional role to make a difference in the lives of those they serve.
Learn more about Helga Manzone and the Silverado- Scottsdale community at silveradosenior.com/scottsdale
About Silverado:
Silverado is a nationally-recognized provider of home care, memory care assisted living and hospice services. With locations in eight states – including Arizona, California, Colorado, Illinois, Texas, Utah, Washington and Wisconsin – Silverado delivers exceptional care and unmatched service to address the spectrum of changing needs, for individuals and families alike.