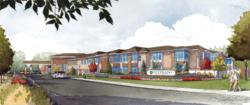 Arvada, CO (PRWEB) February 13, 2013
To commemorate the completion of Silverado's first senior living community in Colorado, the organization's local leadership team is inviting the public to join them for a complimentary breakfast, lunch or dinner. The meal will be prepared by Silverado's gourmet culinary staff - and attendees will have an opportunity to experience their nationally-recognized model of care.
Silverado's culinary events will be held on:
Thursday, February 28, 2013
Breakfast at 8:00am | Lunch at 12:00pm | Dinner at 5:00pm

Wednesday, March 20, 2013
Breakfast at 8:00am | Lunch at 12:00pm | Dinner at 5:00pm
Those interested in attending can RSVP by phone at (303) 456-1500 or in person by visiting the new Silverado community at 6447 Quail Street, Arvada, Colorado 80004
The first floor of Silverado's new community will have an exclusive focus on Memory Care Assisted Living – to provide care for individuals affected by Alzheimer's, Parkinson's or other forms of dementia-related memory loss.
Silverado's second floor will offer personalized Rehabilitation services for individuals in need of short-to-long-term rehabilitation, restorative outpatient care or general skilled nursing. Silverado's second floor will also have a specialty neighborhood dedicated to specialized skilled nursing and rehabilitation for those affected by memory loss.
With the goal of establishing a new standard of care, Silverado maintains partnerships with the nation's top academic and medical research institutes. Silverado's community model offers 24/7 on-site clinical care and specially-designed care programs customized to individual abilities and needs.
Learn more about Silverado's new Memory Care and Rehabilitation community by visiting http://www.SilveradoSenior.com