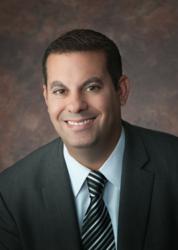 Irvine, CA (PRWEB) November 01, 2012
Founded with the purpose of enhancing quality of life for those affected by Alzheimer's and other memory-impairing conditions, Silverado Senior Living has positioned itself as a leader in the provision of specialized memory care. But as Frank Russo, the organization's Vice President of Risk Management, explains, "Your quality of care is only as good as the individuals who work for you."
Among employees of senior living communities, the risk of work-related injury is much higher for those working in memory care – particularly because of the strenuous effort required in the care of those affected by memory loss.
So, as a way of promoting a safety-conscious culture, Silverado has instituted a unique, industry-leading Workplace Safety Program that topped companies such as Community Health Systems, HCR Manor Care, Life Care Centers of America, Nissan North America, Elkay Manufacturing Company and the municipalities of Knoxville, TN and Pittsburgh, PA to win Health and Insurance Magazine's coveted PreVent Award.
A spotlight initiative within Silverado's award-winning program is the incentive-based Safety Star program where associates receive points for assisting in safety training, demonstrating safe working habits, participating in company-sponsored fitness programs and volunteering for biometric screenings. Participation in these efforts then allows employees to earn safety points which can be redeemed for prizes ranging from electronic accessories to cookware, and even home furnishings.
The program, spearheaded by Frank Russo and Risk Management Specialist Tatiana Williams also includes a monthly risk management newsletter that is distributed companywide to help promote and spotlight Silverado's safety-conscious culture, claims reports that are provided to corporate executives and community management teams on a monthly basis, specific risk management scores per locations to help benchmark companywide efforts, ongoing safety training, and an exhaustive pre-employment screenings to identify high-risk behaviors.
"Ongoing training ensures that our entire staff is aware of proper safety techniques," explains Frank Russo. "Exercise programs allow associates to be more agile and therefore less likely to injure themselves at work. And health screenings help reduce the risk of injuries unrelated to work."
Silverado's 'front-end' efforts have helped reduce loss costs by implementing better safety, wellness and prevention programs which in turn has resulted in much lower worker's compensation claims. Since its inception, Silverado's Workplace Safety Program has contributed to a significant reduction in injuries, claims and overall payments due to workers' compensation claims.
Silverado's Workplace Safety Program will be recognized in the November edition of Risk and Insurance Magazine and at the upcoming 21st Annual National Workers' Compensation and Disability Conference and Expo.
About Silverado Senior Living
Silverado Senior Living operates memory-care assisted living communities in California, Arizona, Illinois, Texas, Utah and Washington; and also offers home care, licensed care management, and end-of-life palliative care through Silverado At Home and Silverado Hospice.
To learn more about Silverado or to obtain information on available resources visit Silverado's 24/7 Live Chat service, available at http://www.silveradosenior.com or by phone at (866) 522-8125.
About Risk and Insurance
Risk and Insurance Magazine is the leading risk and insurance publication in the nation, providing business executives and insurance professionals with the insight, information they need to mitigate challenging business risks – from insurance to employee benefits and alternative risk transfer to emerging risks and strategies for addressing them. Their Annual National Workers' Compensation and Disability Conference and Expo is the most attended workers' compensation and injury prevention conference in the world. To learn more, visit: http://www.riskandinsurance.com/