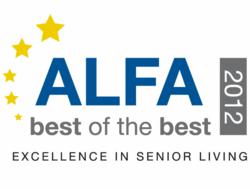 Silverado Senior Living Recognized as Best of the Best for Excellence in Senior Living
(PRWEB) May 11, 2012
Silverado Senior Living, a company founded with the goal of changing how the world cares for individuals with memory-impairment, continues its pioneering memory-care efforts with its recent recognition in the 2012 Assisted Living Federation of America (ALFA) Best of the Best Awards – a national awards program that honors the advancement of business excellence in the field of senior living.
Program submissions were judged for their uniqueness in the industry, innovative use of ideas from outside the industry, impact on residents, their families, staff and operations, embracement of industry core principles, the strength of quantitative and qualitative results and strategic vision.
BEST OF THE BEST WINNER, PHYSICAL PLANT AND ENVIRONMENT:
In the category of Physical Plant and Environment, Silverado was awarded first place for its PURSE (PURchasing, Savings and Efficiencies) Initiative. A program, developed by the Silverado Purchasing team, that has helped streamline the company's vendor supply chain to increase efficiencies and reduce overall costs. More importantly, the initiative also ensures that products and systems make sense in the context of providing high-quality care.
"A key aspect of the PURSE Initiative is to partner with stakeholders from all major departments, from frontline staff to executive management," explains Steve Taylor, Silverado's senior director of purchasing. "By partnering with departments like nursing, for example, we can make smarter purchasing decisions by combining the knowledge of those who manage operations with experiences of those who provide direct care."
SPOTLIGHT RECOGNITION, TECHNOLOGY ADOPTION:
Receiving Spotlight recognition in the 2012 Best of the Best Awards is a Silverado initiative called Enhancing Resident Care through Technological Advancements. This initiative, which started as a quest to do away with noise caused by two-way radios, ultimately led to the development of a system using a handheld device that combine Silverado's nursing communication and security systems.
The system, created through strategic partnerships with key vendors, provides Silverado staff all-in-one control. With the help of this phone-like device, associates can now receive instant and simultaneous alerts related to nurse call activities and resident monitoring devices. The system also allows for internal communication between staff and external communication to physicians and family members.
BEST OF THE BEST PROGRAMS TO WATCH:
Also acknowledged as a Program to Watch in the 2012 Best of the Best Awards is Silverado's Leadership Development Forum (LDF), a leadership training program taught by senior and executive management. Since its inception in 1992, the year-long program has helped at least half of all participants attain higher management positions.
These winning programs and other innovative strategies are recognized in the May/June 2012 issue of the Senior Living Executive (http://www.alfapublications.org) and will be recognized at COMMUNITY 2012, the ALFA Conference and Expo. Learn more about the event for senior living executives at http://www.alfa.org/conference.
ABOUT SILVERADO SENIOR LIVING
Silverado Senior Living, based in Irvine, Calif., operates memory care communities in California, Arizona, Illinois, Texas, Utah, and Washington. It also offers home care, care management, and hospice care through its Silverado At Home and Silverado Hospice service lines, for a total of 36 operating locations. Silverado has research affiliations with the University of California, Los Angeles; University of Southern California; University of California, San Diego; Baylor (Texas) College of Medicine; University of Utah and other institutions.
Silverado Senior Living's website is http://www.SilveradoSenior.com. A live internet chat line offered through the site and the toll-free phone line 866-522-8125 enable the public to obtain information and assistance with the organization's services and referral to other resources at any time of day or night.
ABOUT THE ASSISTED LIVING FEDERATION OF AMERICA
The Assisted Living Federation of America (ALFA) is the largest national association exclusively dedicated to professionally-managed, resident-centered senior living communities and the seniors and families they serve. Since 1990, ALFA has advocated for choice, accessibility, independence, dignity, and quality of life for all seniors. ALFA's programs promote business and operational excellence through education, research, publications, professional networking and online tools designed to foster innovation and entrepreneurism in the field of senior living. Visit ALFA's Web site at http://www.alfa.org.