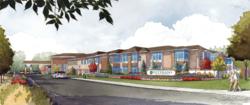 We are excited to expand into Colorado and are confident in the positive impact Silverado will make for the memory-impaired and their families under the leadership of Jenny and Scott
Arvada, CO (PRWEB) April 30, 2012
As Silverado Senior Living moves forward with construction of its 86,000 sq. ft. memory-care and rehabilitation community, the inaugural leadership team has started an Arvada outreach campaign to educate the community on the Silverado quality of life.
Jenny Teague comes onboard as the Community Administrator for the Arvada location. She joins Silverado with over 14 years of experience in the Senior Living Industry beginning as a Registered Nurse before moving up to an Administrator role. She received her Bachelor's of Science degree in Nursing from East Carolina University and has licensures as a Registered Nurse and Nursing Home Administrator in the state of Colorado. Silverado is excited to have her on their team as they prepare to open their new community.
Scott Hysler entered the Senior Housing Industry almost 10-years ago with extensive leadership skills, dedication and experience, he is Silverado's pick as Regional Director of Sales. Scott credits his many professional skills to his 22-years of service in the United States Navy. Scott is currently a Vice President on the Board of Directors for the 50+ Housing Council and sits on many other boards including the Council on Aging and International Counsel of Active Aging.
"We are excited to expand into Colorado and are confident in the positive impact Silverado will make for the memory-impaired and their families under the leadership of Jenny and Scott," says Silverado CEO and Co-Founder Loren Shook.
Silverado Senior Living, based in Irvine, Calif., currently operates memory care communities in California, Arizona, Illinois, Texas, Utah, and Washington. It also offers home care, care management, and hospice care through its Silverado At Home and Silverado Hospice service lines, for a total of 36 operating locations. Silverado has research affiliations with the University of California, Los Angeles; University of Southern California; University of California, San Diego; Baylor (Texas) College of Medicine; University of Utah and other institutions.
To learn more about Silverado or to obtain information on available resources visit Silverado's 24/7 Live Chat service, available at http://www.silveradosenior.com or by phone at (866) 522-8125.