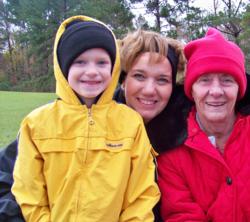 Careful planning and supportive resources can be the keys to a successful holiday season
(PRWEB) November 23, 2011
As families across the nation prepare for a merry and bright season, the coming weeks could bring special challenges to many. They are among the nearly 15 million Americans who provide care for a memory-impaired loved one, and the busy pace that marks this time of year can be overwhelming. Experts with memory-care provider Silverado Senior Living say taking advantage of supportive resources and planning carefully are the keys to a successful holiday season.
Many families whose loved ones reside in a memory-care community plan to bring them to their homes for the holidays. Anne Ellett, M.S.N., N.P., senior vice president of health services for Silverado, recommends asking community staff for recommendations on matters such as dietary needs, managing difficult behaviors and techniques for soothing redirection.
"We also suggest asking one or two people to be responsible for accompanying your loved one. If they notice he or she is becoming tired or overwhelmed, they can go to another room and spend time together in a quiet place until your loved one feels ready to be part of the larger group again," adds Ellett.
An emotionally painful aspect of the holidays may be that the memory-impaired person no longer recognizes family, surprising and distressing far-flung relatives who may not be aware of your loved ones' progressive condition.
"It's best not to keep reminding your loved one of who relatives are, because it causes confusion and anxiety. Keep in mind what the holidays are all about - being together to share love and joy. Regardless of whether family members are remembered, if they sit with your loved one, say 'I love you,' and just hold their hand, it can help to reassure that they are in a safe and loving environment."
If you are caring for a memory-impaired loved one in your home, you may also find it hard to handle holiday preparations such as cooking, shopping, and decorating. A good option for solving this issue is respite care, in which the memory-impaired person stays at a specialized community for a short period of time, often a few days or a week.
"The community's staff will talk with you about your loved one's routine of rest, meals, and medications and they will plan to follow that schedule during the time he or she is staying in respite," explains Ellett. "They will also invite your loved one to participate in engagement activities, so the respite experience is enjoyable and stimulating. This experience often becomes a holiday getaway where individuals can explore new interests within an appropriate setting."
Caregivers can take care of seasonal tasks while their loved ones are in respite care. "They can also dedicate some time to relaxing and recharging, so they have fresh energy for their responsibilities over the next several weeks," Ellett adds.
For more information on supportive services or to learn more about respite care, contact Silverado's free 24-Hour Live Chat at any time of day or night. The chat line is also accessible by toll-free telephone at (866) 522-8125.
Silverado Senior Living, based in Irvine, Calif., operates memory-care communities in California, Texas, Arizona, Utah and Illinois. It also offers home care, care management, and hospice care through its Silverado At Home and Silverado Hospice service lines, for a total of 34 operating locations. Silverado has numerous research affiliations with leaders in the field of Alzheimer's disease, including University of California, San Diego; University of California, Los Angeles; University of Southern California; Baylor (Texas) College of Medicine; and University of Utah. Silverado Senior Living's website is http://www.SilveradoSenior.com.
###