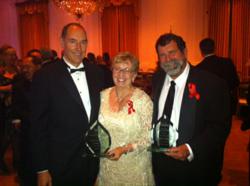 CONGRATULATIONS STEPHEN AND CAROLE FOR YOUR TREMENDOUS ACHIEVEMENT!
Irvine, CA (PRWEB) October 26, 2011
This year was the inaugural celebration of Community Senior Serv's Senior Care Humanitarian Awards, a night of recognition for those who have gone above and beyond their designated duties, to make a positive difference in the lives of seniors.
Members of our executive team had the pleasure of being in attendance to watch as Silverado went home with two of the night's biggest awards: Stephen Winner was presented with a Lifetime Achievement Award in the field of dementia-care, for his invaluable efforts as Silverado Senior Living's Co-Founder and Chief of Culture. The award was presented by a representative of the Alzheimer's Association, who celebrated Steve for being the embodiment of a purpose-driven life.
Carole Shaw was also acknowledged for her accomplishments as the Administrator at Silverado Senior Living – San Juan Capistrano. Carole was recognized as Administrator of the Year in the field of dementia-care; and was admired for her ability to create a community environment that not only brings LIFE to her residents, but to their families and her associates as well.
The awards were presented by Community SeniorServ, a non-profit organization that helps older adults remain independent and in their own homes by offering nutrition programs and Adult Day Care services for seniors throughout Southern California.
Silverado Senior Living is a care provider that emphasizes the power of Love, Innovation, Family and Engagement (LIFE), as a key element in promoting the value of individual experiences while growing older. Silverado's unique approach to caring for individuals with memory-impairment has gained national acclaim for its focus on providing life-affirming and purposeful engagement opportunities across the continuum of care.
Silverado co-founders, Loren Shook and Stephen Winner have also gained national and international recognition for authoring "The Silverado Story: A Memory-Care Culture Where Love is Greater than Fear," the award-winning book that chronicles the company's success in raising the standard of care for individuals with memory-impairment around the world.
###