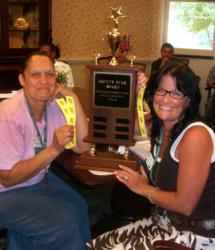 Offering the highest quality of care to our residents, clients and patients begins with providing a safe working environment for our associates
Irvine, CA (PRWEB) December 01, 2011
Silverado Senior Living achieved finalist status in the PreVent National Employee Injury Prevention Award program, an initiative that lauds organizations for devoting significant time and resources to preventing workplace injuries and promoting a safe on-the-job environment. Held for the first time this year, the PreVent Award program is conducted under the auspices of Risk & Insurance magazine, a leading publication for business executives and insurance professionals.
The PreVent Award honors an employer that embodies a proactive injury- prevention philosophy and culture beyond traditional safety and loss-control programs. In considering award candidates, judges evaluate total injury prevention focus, risk assessment practices, and proactive approaches. The competition is open to all companies across all industries. Silverado was the runner up to the top-place finisher, Honda Manufacturing of Indiana.
Among the practices that earned attention for Silverado is its Silverado Safety Star program, which rewards and recognizes employees for good work and extra effort in promoting a safe environment. The Silverado Safety Star initiative has been named "The Best of the Best" risk management practice by the Assisted Living Federation of America, the national professional organization for assisted living providers.
"Offering the highest quality of care to our residents, clients and patients begins with providing a safe working environment for our associates," said Silverado Senior Living President & CEO Loren Shook. "We've focused intensively on workplace safety since our founding 15 years ago. Placing so highly in this competition allows our workforce, those in our care, and their families to know that our practices rank among the nation's best." Silverado employs 2,400 associates.
Silverado Senior Living, which offers care for those with Alzheimer's, Parkinson's, and other memory-impairing diseases, operates memory-care assisted living communities in California, Texas, Arizona, Utah, Illinois, and Washington. Silverado also offers home care, care management, and hospice care through its Silverado At Home and Silverado Hospice service lines, for a total of 36 operating locations.
To learn more about Silverado or for information about services in your area, contact Silverado's free 24-Hour Live Chat and speak to a professional representative at any time of day or night.
# # #