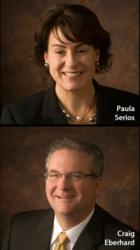 This latest addition to the Silverado family represents a cornerstone in our goal to change how the world perceives and cares for individuals with memory-impairment
Irvine, CA (PRWEB) January 31, 2012
Silverado Senior Living is pleased to announce the appointment of two new executive team members. Paula Serios will assume the role of Senior Vice President and Chief Marketing Officer and Craig Eberhard will step into the role of Vice President of Sales. Both positions were added in the fourth-quarter of 2011 and both are new to the Silverado executive team.
"This latest addition to the Silverado family represents a cornerstone in our goal to change how the world perceives and cares for individuals with memory-impairment," explains Silverado Co-Founder, CEO/President and Chairman of the Board Loren Shook.
Ms. Serios joins Silverado after nearly a decade with Orange County's Mission Hospital, as Vice President of Marketing and Communications. While at Mission Hospital, Ms. Serios was instrumental in the development of marketing and awareness campaigns that not only helped the organization reach its strategic goals, but also mirrored the their broader mission of continually improving the health and quality-of-life of those living in the surrounding communities.
Prior to her work at Mission Hospital, Ms. Serios worked for several of the nation's top advertising agencies where her responsibilities spanned business development, strategic planning, and account service for such clients as Sears, Eddie-Bauer and Microsoft. She holds a Bachelor's degree in Journalism from the University of Wisconsin-Madison and a Master's in Business Administration from Loyola University in Chicago.
Mr. Eberhard comes to Silverado with over 30 years of healthcare experience, specializing in sales for pharmaceutical companies, durable medical equipment and assisted living providers. Most recently, he served as Senior Vice President of Sales for Apria Healthcare where he developed high-performing sales teams.
Additionally, Mr. Eberhard spent several years in leadership sales positions with the Upjohn Company, where he was influential in integrating existing sales forces following successful mergers. He has also helped build commercial sales teams, from inception to maturity, and has led in the development sales initiatives across multiple states and locations. Mr. Eberhard holds a Bachelor's of Science degree in Biology from California Lutheran University.
"As our company continues to grow, their combined efforts will undoubtedly help us inform the public and professionals about our vision to dramatically improve quality-of-life for all people with Alzheimer's and other memory-impairing diseases, to levels previously thought unachievable," continued Shook. "Our associates at Silverado are doing this every day and it is our hope to spread this message even further."
Silverado Senior Living maintains partnerships with the nation's top academic and medical research institutes, to deliver a proven model of care for individuals with memory-impairing conditions. The company operates memory-care assisted living communities in California, Arizona, Illinois, Texas, Utah, Washington, and has communities under development in Colorado and Wisconsin; Silverado also offers home care, licensed care management, and end-of-life palliative care through Silverado At Home and Silverado Hospice. To learn more about Silverado or to obtain information about services in your area visit Silverado's 24/7 Live Chat service and speak to a live representatives any time of day or night.
###