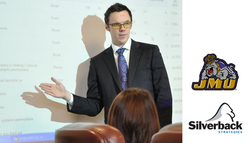 The Google Challenge is a great way for students to get practical experience managing an AdWords campaign – we love engaging with groups like this who will steer the future of online advertising
Washington, DC (Vocus) February 22, 2010
SEO agency Silverback Strategies is becoming a popular guest speaker at universities and organizations interested in the latest trends in Internet marketing, the agency announced today. Case in point was their invitation to speak to some of the nation's top Internet marketing students at James Madison University, who are currently preparing for the 2010 Google Online Marketing Challenge. Silverback vice president Joseph Erfe and CEO Neil Welsh spoke to this year's competitors at the university on February 12, 2010.
Teams from JMU dominated the 2008 and 2009 Google competitions, which give university students a chance to test out their Google AdWords management strategies on a real business in a real online campaign.
JMU students Rachel Bruton, Meredith Rauh and Brandon Sockwell, working with local tour operator mobiletours.org, took first place in the Americas region in 2009. Two other JMU teams were ranked in the top 50 in the Americas region, and in 2008, JMU placed five teams in the top 10% globally. More than 2,000 student teams from 57 countries around the world took part in the 2009 challenge.
The JMU teams are students of marketing professor and renowned Internet communications expert Theresa Flaherty, who invited the Silverback experts to speak to her classes about their experiences with Google AdWords management, pay per click management and careers in Internet marketing. Erfe is a JMU alumnus and former student of Dr. Flaherty's. He offered the students real-world examples of how AdWords campaigns are planned and executed based on the work Silverback does for its clients on a daily basis.
"This is my third year implementing the Challenge with JMU marketing students. It's a very enriching and practical educational experience for students as they develop an understanding of online marketing strategies, Google tools, client relationships and marketing analytics," said Dr. Flaherty.
In addition to teaching courses at JMU, Dr. Flaherty is co-editor of Advances in Electronic Marketing, and her research has appeared in a broad range of elite journals related to technology, marketing and the Internet. She currently serves on the Google Global Academic Panel and runs the Twitter account and Facebook Fan page for the Google Online Marketing Challenge.
The annual Google Challenge enables students around the world to gain practical online marketing experience. Student teams receive $200 of free online advertising with Google AdWords and then work with local businesses to devise effective online marketing campaigns. Teams outline a strategy, run a campaign, assess their results and provide the business with recommendations to further develop their online marketing. Teams submit their reports and are judged by a panel of independent academics from around the world.
"The Google Challenge is a great way for students to get practical experience managing an AdWords campaign – we love engaging with groups like this who will steer the future of online advertising," said Erfe. "My own experience at JMU clearly influenced my career path, and thanks to Dr. Flaherty, the school is well ahead of the curve when it comes to education in online marketing – I know they'll do well in the Google competition again this year."
"With growing interest in pay per click management and Google AdWords campaign management in particular, we're getting a lot more speaking opportunities like this one," says Neil Welsh."The skills these students are building in their coursework and through competitions like these are becoming more and more valuable – it's phenomenal to see how astute these kids are about Internet marketing and where it's headed."
Read more about the Google Online Marketing Challenge at: http://www.google.com/onlinechallenge/
About Silverback Strategies:
Based in Alexandria, Virginia, Online Marketing Agency Silverback Strategies partners with businesses large and small to provide state-of-the-art web design, SEO Management and pay-per-click campaign strategy, consulting and execution. The company's SEO professionals are frequent presenters at educational institutions and marketing organizations on the topic of Internet campaign management. For speaking and media enquiries, contact 888.434.7775. Or visit Silverback Strategies on the web at silverbackstrategies.com.
###