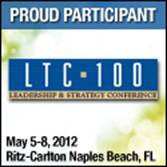 Charlottesville, VA (PRWEB) April 03, 2012
Silverchair Learning Systems announced that it will participate as a Sponsor Partner in the 2012 LTC 100 Leadership & Strategy Conference being held May 5-8 at the Ritz-Carlton Naples Beach, FL.
LTC 100 is the premier conference for executives in skilled nursing, long term care and transitional care to share best practices, strategize for the future and help position the sector for success in the evolving healthcare environment.
Silverchair Learning Systems joins a roster of innovative and leading solutions providers for long term care. The educational program will address critical issues for the skilled nursing sector, including: The 2012 elections and their impact on healthcare; the Pioneer ACO Program; Bundled Payment Pilots; CEO strategies for success; a provider think tank on cost/quality improvements; strategies for rural providers; a future view of healthcare delivery in a world of socially connected consumers; and techniques for managing organizational change.
"Silverchair is pleased to sponsor LTC 100 for the fifth year in a row," says Mike Mutka, President and COO of Silverchair Learning Systems. "We always look forward to seeing clients and meeting new contacts at this event."
LTC 100 is exclusively for CEOs, Presidents, CFOs, COOs and selected VPs from skilled nursing, long term care and transitional care organizations with at least $40M in revenue. For details and registration information, please visit http://www.ltc100.com or contact Emily Sciascia at (203) 644-1701.
###
About Silverchair Learning Systems
Silverchair Learning Systems works with senior care leaders who want to improve the training process in their organizations. Silverchair offers a user-friendly online training solution that improves compliance and eliminates record keeping headaches, while saving time and money. We make online training successful with easy set-up, ease of use, simple tracking, and educationally-rich yet fun courses. Using this system provides peace of mind and confidence. http://www.silverchairlearning.com
About Lincoln Healthcare Events:
Lincoln Healthcare Events is an independent producer of C-level leadership conferences for the healthcare industry. The company strives to positively impact the quality and effectiveness of the U.S. healthcare system by helping to educate and share best practices among its business leaders.