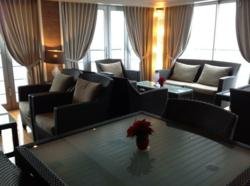 With so many new ships and itineraries for 2013, river cruising offers an exciting way to explore several cities and regions in one holiday.
Bath, Wiltshire and London (PRWEB UK) 26 November 2012
Demand for river cruise holidays has never been stronger. While the number of overseas holidays taken by Britons has fallen by 8.7 million between 2008 and 2011, those taking a river cruise have increased by 48% over the same period. A total of 80,000 passengers sailed the European waterways in 2011, with very strong increases also seen on the Russian waterways and in Asia. Kit Williams, cruise specialist from tailor-made travel experts Silver Compass, was in Amsterdam for the second annual ACE River Cruise Expo to find out about the latest developments in this market and hear from a number of the key river cruise Lines about their plans for 2013 and beyond.
The Rhine is still the most popular river for British travellers, but other European rivers such as the Danube are not far behind. New itineraries have been introduced on the Po in Italy and the Douro in Portugal. Further afield, the Nile (Egypt), Mekong (Cambodia) and Yangtze (China) are proving popular and some exciting new destinations are being developed in North America (the Mississippi), South America (the Peruvian Amazon), Botswana (the Chobe) and Myanmar (the Ayeyarwady).
New and innovative designs and a wider choice of itineraries have made the river cruise sector into a great alternative to the ocean going cruise ships. Standards of accommodation and catering on board are very high and the itineraries, facilities and activities available offer an excellent option for travellers who enjoy a touring holiday.
The River Cruise Expo in Amsterdam was an opportunity for participants to get up-close and personal with six very different river cruise vessels, each from a different cruise company. Kit Williams said: "We breakfasted on Avalon Vista (Avalon Waterways), were welcomed for lunch on board Amadeus Elegant (Amadeus by Luftner) and on Da Vinci (Shearings) and dined and slept on board SS Antoinette (Titan/Uniworld). With full tours of all of these ships as well as MS AmaDante (AMA Waterways) and MV Switzerland II (The River Cruise Line) it was an unmissable opportunity to see the differences between the cruise lines and fully appreciate the quality of the experiences offered."
A record number of new river cruise vessels is planned for 2013, of which 13 will sail on the Rhine and Danube, 2 on the Douro, 1 on the Yangtze, 1 on the Ayeyarwady and 1 on the Mekong.
With so many new ships added to fleets that already impress, a river cruise offers a very attractive proposition and reflects very good value considering what is included in the price – accommodation and food plus, in many cases, excursions, wine, beer and soft drinks with meals, gratuities and maybe even free wifi.
About Silver Compass:
Silver Compass is an award-winning tailor-made travel agency based in London and Wiltshire with a passion for exceptional service. They are members of the Association of Cruise Experts and The Global Travel Group and as such, offer a full range of cruise and land-based holidays. Attendance at events such as the River Cruise Expo ensures that they are able to give the best possible travel advice.
For further information or to discuss ideas for a forthcoming holiday, contact Kit or Ben Williams on 0208 305 0350 or email on info(at)silvercompass.co.uk