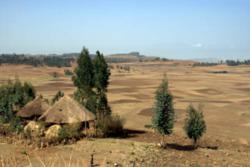 Silver Compass is keen to support the communities in the countries to which their clients travel.
London and Box, Wiltshire (PRWEB UK) 27 November 2012
Bespoke travel agency Silver Compass is delighted to be supporting the charity Farm Africa, with effect from 1st December 2012. The company specialises in tailor-made travel worldwide and is keen to support the communities in the countries to which their clients travel. Farm Africa works with some of the poorest communities in eastern Africa, a destination which has proved very popular with Silver Compass clients. Holidays in East Africa offer a wonderful range of experiences including Beach Resorts, Safari and Wildlife Holidays, Kilimanjaro climbs and other physical challenges as well as exceptional natural scenery. However, the communities living in those countries are amongst the poorest and hardest hit in times of difficulty.
Staff at the tailor-made travel consultancy have supported the charity for some time on a personal basis and the company has recently formalised this relationship with Farm Africa. Clients will be given the option when booking to elect for a percentage of the cost of their holiday to be donated to the charity, at no extra cost to the client, so making a difference to the communities in holiday destinations at the same time as enjoying what those destinations have to offer.
Silver Compass and Farm Africa have much in common, apart from geographical location. Ben Williams, owner of Silver Compass, said: "We have chosen to support Farm Africa because they are experts in their field, understanding the needs of the beneficiaries and providing appropriate solutions to their problems rather than imposing unsuitable forms of aid which are unsustainable. The support provided to the poorest communities is based on thorough research by experts. With overheads much lower than for many charitable organisations, it is also great value for money. Silver Compass aims to work in the same way."
Holidays booked through Silver Compass can make a real difference to those living in eastern Africa. For example:

A city break for 2 could change the fortunes of a family that has nothing. Farm Africa could provide a seed starter kit, including nutritional staples like sorghum, maize, groundnuts and pulses that are also hardy enough to grow in harsh climates.
A romantic beach holiday on the Indian Ocean could pay for three chickens and training on how to build a protective chicken coop and properly care for the birds.
A one week Born Free Safari for a family of four could buy a camel. A camel from Farm Africa could enable an African family to forge a better future in desert climates. These queens of the desert can produce milk during periods of drought, even though they may not have water to drink themselves.
Cathy Whiteman, Head of Corporate and Community Fundraising at Farm Africa says: "We are delighted that Silver Compass has chosen to support Farm Africa in this way. Our work with farming communities across eastern Africa is only possible thanks to the generosity of supporters who share our belief that Africa's farmers can feed Africa's people. Please support this new venture by requesting a donation to Farm Africa when you book your next dream holiday with Silver Compass."
About Silver Compass:
Silver Compass is an award-winning tailor-made travel agency based in London and Wiltshire with a passion for exceptional service. They are members of The Global Travel Group and as such, offer a full range of holidays worldwide. They thrive on thorough research and matching the right holiday to the client, especially where the requests are for something that little bit unusual.
For further information or to discuss ideas for a forthcoming holiday, contact Kit or Ben Williams on 0208 305 0350 or email on info(at)silvercompass.co.uk