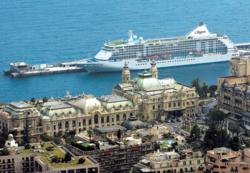 ...there's no question that the all-inclusive nature of the luxury cruise lines' package makes it much easier to assess the full cost of the cruise, and represents excellent value for money.
London and Box, Wiltshire (PRWEB UK) 23 April 2013
Before a client decides which cruise to book, Kit Williams, cruise expert from luxury travel specialists Silver Compass, recommends they list the things that matter most to them so they can check which of the important features are or aren't included in the quoted price, and get a realistic idea of how much extra the cruise will cost in total.
There's no question about it, with accommodation, meals and entertainment included a cruise is one of today's best value holidays, but it can often be hard to work out what's included in the up-front cost.
"Every cruise line has a different offering and it can be a bit of a minefield. The ubiquitous special bonus offers, which change with the regularity of traffic lights, make it even harder to work out the likely total cost of a cruise."
We've all seen the cruise line time-limited offers of free parking at the port, drinks packages and so on, but how much are they actually worth?
They can have a very significant value if they are actually important to the guest but you won't usually be able to benefit from more than one offer on any single booking. Which is where the luxury cruise lines step in.
Cruise lines such as Regent Seven Seas, Silversea, Crystal and Seabourn offer a much more complete package, including at least flights, gratuities, drinks and speciality dining. When you take into account that the ships allow much more space per guest, the accommodation is invariably all suites, most with balconies, and the crew/guest ratio is also more favourable, this makes it a pretty attractive proposition. Add to that the little touches of luxury about the place and the exceptional levels of service and it's certainly an option worth considering.
Some of the luxury cruise lines include a night in a luxury hotel pre-cruise and a range of excursions. For many, the excursions can make the cruise, and staying in a hotel the night before embarkation is a good idea, especially for a fly-cruise.
This is where Regent really stands out from the rest. On a Regent cruise guests can choose unlimited complementary excursions from the range offered (at least one, and often many, in each port of call). The excursions are varied and run very professionally and make a Regent cruise a genuinely all-inclusive offering.
Kit's assessment is that "every cruise line and every guest is different, but the all-inclusive nature of the luxury cruise lines' package makes it much easier to assess the full cost of the cruise, and represents excellent value for money. However, the winning "extra" for me this year, as an opera fan, is the pre-cruise option of 2 nights in Verona including Gold seats at a performance of Nabucco and an escorted pre-cruise programme for less than £100 – much less than the opera tickets themselves would cost. Brilliant!"
Examples of all-inclusive fares with Regent Seven Seas, booked through Silver Compass:
1. 28th July 2013: 7 nights Copenhagen to Stockholm – fr £2499pp (Cat F suite) saving £900pp and qualifying for $300 On Board Credit per suite. Other cabin grades are available through the same deal with substantial savings in excess of £1000pp, but very limited availability.
2. 10th August 2013: 2 nights Verona Opera Festival plus 10 nights Venice to Barcelona – fr £4915pp (Cat F suite – entry level suites are sold out). Limited availability.
3. 8th December 2013: 12 nights Rio de Janeiro to Buenos Aires – fr £4209pp (Cat G suite) saving £680pp and qualifying for $600 per suite On Board Credit. Other cabin grades are available with savings up to £2830pp. This is a "Silver Compass Special".
For more information about these and other cruises, or to place a booking please contact Kit at Silver Compass on 0208 305 0350 or by email info(at)silvercompass.co.uk
About Silver Compass:
Silver Compass is an award-winning tailor-made travel agency based in London and Wiltshire with a passion for exceptional service. Members of the Association of Cruise Experts, their cruise specialists look after every detail and thrive on matching the right cruise line to the customer.