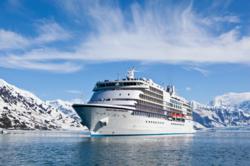 On returning from a Regent cruise our clients are full of compliments and comment on the exceptional standard of the whole experience and the great value offered by the cruise line.'
London and Box, Wiltshire (PRWEB UK) 12 December 2012
Consultants at luxury cruise specialists Silver Compass work closely with Regent Seven Seas and fully endorse the latest accolade from Cruise Critic. Kit Williams, cruise specialist from the luxury travel agency, says: 'We are very happy to be working with Regent Seven Seas, whose level of service both to our clients and ourselves is second to none. On returning from a Regent cruise our clients are full of compliments and comment on the exceptional standard of the whole experience and the great value offered by the cruise line.'
Cruise experts at Silver Compass have secured some exceptional rates from Regent for the Alaska itinerary departing on 22nd May 2013 and can offer entry-level fares no longer available directly from the cruise line. These Silver Compass Specials also include an onboard credit of $350 per suite.
Regent stands out from the competition in many areas, one of which is in the range of free first-rate shore excursions included in the cruise. Nowhere is this more valuable than in the opportunity to experience this "Great Land" at close quarters.
Alaska is a land of superlatives and adventure. Nowhere else is mother-nature more dramatic than in Alaska itself and there is no better way to experience its coastal beauty than from the deck of a cruise ship. Adventurers looking to become one with this great, outdoor wilderness need look no further than Regent Seven Seas Cruises and the ultra-luxury line's collection of Alaskan voyages.
Cruise experts at Silver Compass have identified their top five reasons to explore Alaska with Regent.
1. 'Silver Compass Special' Lead-in fares from just £2,299 and private balcony from £2,799 per person! (subject to availability): Experience all this stunning state has to offer with the most inclusive luxury cruise line on an intimate ship where virtually every suite has its own private balcony – the perfect vantage point to view the Great Land. Book through Silver Compass and receive a bonus $350 on-board credit per suite.
2. Where shore excursions really do matter... Regent's unrivalled assortment of unlimited included excursions is as refreshing as Alaska itself! No need to budget or be concerned about excursion costs. Get out into the wilderness and experience this Great Land, at no extra cost. A 7-night cruise can have up to 57 completely free excursions to choose from.
3. Pre-cruise Luxury Hotel Package: Enjoy a 1-night luxury pre-cruise hotel stay included on all our 2013 itineraries and embark Seven Seas Navigator in Vancouver or Seward or San Francisco refreshed and ready for a once-in-a-lifetime adventure.
4. Alaska up close and personal: Get intimate with Alaska onboard Seven Seas Navigator. As an 'Ice Class' ship transporting just 490 guests onboard, this small ship can get into all the ports and up close and personal to major landmarks such as Hubbard Glacier. With no queues or crowds, visit each port of call with only a few other like minded explorers.
5. It's all included... Fares with the world's most inclusive luxury cruise line include all the following at no extra cost: flights and transfers, 1-night pre-cruise Luxury Hotel Package, unlimited shore excursions on every voyage, all fine dining including speciality restaurants, all drinks at any time of day, all gratuities, all onboard activities and use of luxury amenities, in-suite dining and 24-hour room service, Butler service and iPad in Penthouse Suites and above.
Examples of lead-in fares follow:
Seven Seas Navigator 2013
22 May | 1+ 7 nights | Vancouver roundtrip |
Window Suite – from £2,299pp.
Just a couple still available through Silver Compass with a bonus $350 onboard credit per suite. Not available direct from Regent.
Deluxe Balcony from £2,799 pp plus Silver Compass bonus of $350 onboard credit per suite.
12 Jun | 1 + 7 nights | Seward to Vancouver |
Window Suite - from £2,699 pp
Deluxe Balcony – from £3,299pp
About Silver Compass:
Silver Compass is an award-winning tailor-made travel agency based in London and Wiltshire with a passion for exceptional service. Members of the Association of Cruise Experts, their cruise specialists look after every detail and thrive on matching the right cruise line to the customer.
For further information or to place a booking get in touch with Silver Compass by email (info(at)silvercompass.co.uk) or by calling 0208 350 0350.