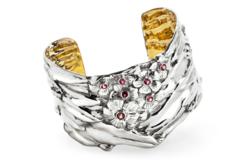 Buying an important gift online requires faith in the product's worth. Five qualities make a piece of jewelry an automatic heirloom which grows in value.
Baltimore, MD (PRWEB) May 03, 2012
American Estate Jewelry, known for its handcrafted sterling jewelry, reports that its most important jewelry holiday, after Christmas, is Mother's Day when the Mom is expecting or has just recently welcomed her first baby. Termed the "push present" to honor her pregnancy and/or the birth itself, a silver cuff bracelet is richly deserved. "The Forever Cuff" offered by American Estate Jewelry is a classic gift, easily accessed by modern means.
"The first-time mom deserves nothing less than jewelry," notes Amy Crisman of Radcliffe Jewelers in Baltimore, Maryland. "Mother's Day breakfast in bed is only step one. A beautiful sterling cuff is the crucial step two."
American Estate Jewelry, which features pieces designed and created by Galmer Fine Silver in the USA, presents another reason a cuff is ideal for first-timers. The firm offers cuffs especially meant to be passed down from generation to generation, due to its heirloom characteristics. "For a mom with a newborn daughter, it's a twofer," says Carolyn O'Keefe, founder of American Estate. "Dad gets extra points for thinking of both women in his life."
Yet this classic tradition will be carried out the modern way. A key difference this year is the increase in husbands purchasing Mother's Day gifts online—via tablets and smartphones
According to an April 2012 poll commissioned by the National Retail Federation, 36 percent of consumers said they plan to research products and compare prices on their tablets and 25 percent who will do the same on their smartphones. In addition, 24 percent of consumers surveyed said they would actually buy the present on their tablet computer. American Estate Jewelry offers online shoppers free shipping for silver cuffs the two weeks prior to Mother's Day.
Buying a silver cuff online requires faith in the product's worth. What qualities make a piece of jewelry an automatic heirloom? Will it grow in value and is it particularly appropriate for passing down? Consumers should look for five characteristics to test for estate-worthiness. O'Keefe recommends looking for these key worth points:

Handcrafting. Something mass-produced is never as rare or prized as something created by hand.
Excellent workmanship. Look for intricate detailing and unique elements.
"Customers should compare several cuffs to train their eyes. Even a novice will be able to discern obvious talent and meticulous crafting," according to Crisman. In the American Estate line, The Chrysanthemum Cuff has a petaled edge, highly-detailed engraving and an interior that is as beautiful as the exterior.
Hallmark. The artist's hallmark provides future appraisers a mark of authenticity and a sense of when the piece was made for future appraisals.
Exceptional material. Not all silver is alike, even if it is marked .925. Feel the weight of various cuffs, feel its surface and see how the silver stands up to the artist's sculpting.
Artistic lineage. When buying a painting, for example, one should understand the artist's entire body of work. Check websites and auction sites to evaluate the artist's work over decades.
About American Estate Jewelry:
American Estate Jewelry is a company based in Maryland which showcases the work of Galmer Fine Silver in glorious floral motifs of Chrysanthemum, Palm, Magnolia, Peony and more. The company was founded by Carolyn O'Keefe in honor of her mother Sally Bodie, a career woman and joyful mom who wore one stunning sterling cuff every day. Sally had inherited the estate cuff from her great grandmother and it became her signature. The American Estate Jewelry Story.
The company's silver cuffs are known as "forever cuffs" because women wear them every day, for all occasions and then -- because of their intrinsic value and important Galmer hallmark -- pass them on as valuable heirlooms to the next generation. Galmer Silversmiths' reputation is marked by its twenty-year history with Tiffany & Co. creating complex silver pieces and special commissions for museums.
American Estate Jewelry pays tribute to the American tradition of passing distinctive sterling jewelry from generation to generation. The name American Estate represents not only this family tradition but also America's silver-making tradition, preeminent in turn-of-the-century America. The collection is available through http://www.theforevercuff.com or http://www.americanestatejewelry.com. CONTACT: Carolyn O'Keefe (410) 218-9500 carolyn(at)americanestatejewelry(dot)com