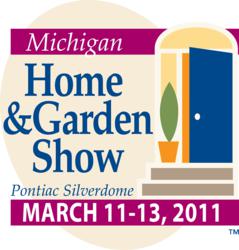 We are looking forward to an exciting show where attendees will discover the latest ideas and trends in home improvement, landscaping and gardening
Pontiac, MI (Vocus/PRWEB) March 01, 2011
The Michigan Home & Garden Show opens Friday, March 11 and runs through Sunday, March 13 at the Pontiac Silverdome featuring something for everyone looking for inspiration for their home and garden improvement projects.
"We are looking forward to an exciting show where attendees will discover the latest ideas and trends in home improvement, landscaping and gardening," said Mike Wilbraham, show producer of ShowSpan, Inc. of Grand Rapids.
Organically grown flowers, rainwater harvesting and outdoor living space will be shown in the professionally landscaped gardens and landscapes with blooming annuals and perennials, reflecting ponds, waterfalls, fountains, brick walkways, decks and patios created by area landscapers.
Free educational seminars and how-to demonstrations for new ideas and instruction led by gardening, interior design, home improvement and cooking experts will be on the Food, Home and Garden Stages. Chefs Angus Campbell and Robert Garlough from the Secchia Institute for Culinary Arts at Grand Rapids Community College will cook up "Sweet Party Treats" and Chef Debra from Debra's Delectable Delights will prepare a "Spring Vegetarian Meal" on the Food Stage. America's Master Handyman and WJR radio host Glenn Haege, Leslie Hart-Davidson of Hart-Davidson Designs, SEMCOG, Porter & Heckman and The Inside Outside Guys will cover interior design, home improvement, clean water and home energy on the Home Stage. The Detroit News columnist and book author Nancy Szerlag will talk about vegetable gardening, Union of Concerned Scientists will focus on environmentally sensitive garden practices and Dan Riddle of Lodi Farms will concentrate on trees during their seminars on the Garden Stage.
Homeowners can compare products and services and find professionals for landscaping, building, remodeling, do-it-yourself and home decorating projects. Experts will be on hand to provide tips, advice and knowledge on home renovations, improvement, maintenance, gardening and landscaping.
Exhibit displays will fill the Silverdome with all the major home product categories from the basics of heating, cooling, kitchens, baths, windows and doors to room additions, siding, closets, log homes, vacuums, appliances, fixtures, furnishings, landscaping and decorative accessories.
Pontiac Silverdome is located at 1200 Featherstone Road, north of M-59 and west of Opdyke Road in Pontiac. Show hours are from noon - 9 p.m. Friday; 10 a.m. - 9 p.m. Saturday and 10 a.m. - 6 p.m. Sunday. Admission is $10; $5 for children 6-14 and children 5 and under admitted free. Discount coupons for $2 off Friday adult admission are available at show's Web site and at participating Wendy's restaurants. Advance tickets are available online at http://www.SilverdomeTickets.com. On site parking is available for a fee. Social networkers can follow the show on Twitter at Twitter.com/MIHomeShow or become a fan on Facebook at SilverdomeHomeShow.com/Facebook. For more information, visit http://www.SilverdomeHomeShow.com or call (800) 328-6550.
# # #