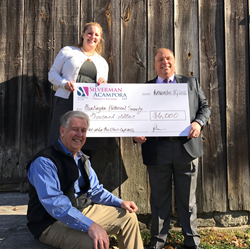 "The Huntington Historical Society does a tremendous job keeping history alive and we were thrilled to be part of their annual fund raising event." Anthonoy Acampora
Jericho, New York (PRWEB) January 17, 2017
Anthony Acampora presented Claudia Fortunato-Napolitano, Executive Director and Robert "Toby" Kissam, President, of the Huntington Historical Society with a check for $6,000 following sponsorship of the Society's annual Huntington Historical Society "An Evening of Wine Under the Stars" held on Thursday, September 8th 2016. The sold-out event took place in the yard on the Dr. Daniel Kissam house on Park Avenue.
SilvermanAcampora works closely with a number of local and national not-for-profit organizations raising funds - and fun - with their unique photo-experience sponsorship program.
"We believe in partnering with charitable organizations in a more direct and dynamic way. Our fund-raising team delivers a high energy, interactive photo experience that creates a lot of buzz. Our donation is based on the number of photographs taken with our company mascot Flint the dog. Put simply, the more people play, the more we pay. Everyone has a blast and we raise additional funds," said Anthony Acampora, Partner-In-Charge of SilvermanAcampora LLP. "Preserving and supporting the curation of our local history is extremely important. The character of our business community is directly linked to the rich history of our local communities. The Huntington Historical Society does a tremendous job keeping history alive and we were thrilled to be part of their annual fund raising event."
The Huntington Historical Society manages a busy calendar of educational events that bring history into the classrooms and conscience of children and adults of all ages.
"Without the support of local businesses and individuals we wouldn't be able to do the work we're all so passionate about. We're always so grateful for the support of our sponsors, but it was such a pleasure working with SilvermanAcampora and their team. Not only did they raise much needed funds for the Society, they brought so much energy to the evening and captured so many fun images and memories that we all really enjoyed," commented Claudia Fortunato-Napolitano, Executive Director of the Huntington Historical Society.
SilvermanAcampora LLP is a full-service law firm, based in Jericho, NY (Long Island) serving the entire tristate (New York, Connecticut, New Jersey) region. Founded in 1999 by Kenneth Silverman and Anthony Acampora the firm quickly established itself as one of the premier law firms in New York state. Practice groups include; Corporate, Litigation, Employment & Labor, Real Estate, Government & Compliance, Corporate Restructuring & Bankruptcy.
The Huntington Historical Society has spent over 100 years protecting and interpreting the history of Huntington town and the central Long Island region. The Society now maintains five national register historic properties – two as house museums, one for a gallery and display space for exhibiting selected portions of our collection. The fourth houses their administration office and extensive Resource Center and Archives and the fifth, The Adams House, is on the property of the Kissam House and is not open to the public. The Society shares the legacy it is preserving by sponsoring educational festivals, a lecture series, school programs and summer educational programs.