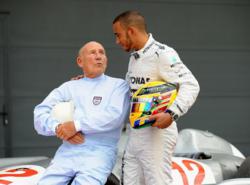 Lewis Hamilton, Sir Stirling Moss Discuss This Weekend's British Grand Prix
Stevenage, Hertfordshire, London (PRWEB UK) 28 June 2013
There, they absorb the throaty sounds of the world's highest performance engines. They witness the skills and daring of the planet's greatest drivers. They come in groups of families and friends ready to join in the cheering and excitement that is the British Grand Prix.
The British Grand Prix takes place this Sunday but the excitement began building last week when racing legends Sir Stirling Moss and Stevenage's own Lewis Hamilton served as honoured guests at a British Grand Prix Preview at Silverstone.
The former British Grand Prix winners were accompanied by a replica of the current Mercedes AMG Petronas Formula One car. It was not the only vehicle gaining attention however. Also present was the very Mercedes-Benz W 196 that Sterling Moss drove to victory at the British Grand Prix in 1955. That was his very first ever F1TM World Championship win. The car had previously won the 1954 Swiss and German Grand Prix driven by 5-time World Champion Juan Manuel Fangio.
Hamilton is looking to repeat his 2008 British Grand Prix Victory and looks to have a car that may just get it done. The Mercedes AMG Petronas Formula One car has already captured four pole positions this year and three top four finishes. The car was also driven to victory by Nico Rosberg at the Monaco Grand Prix. Hamiliton would like to match Moss with two British Grand Prix victories. He would also like to make his Mercedes-Benz team proud for his home race.
Moss had glowing things to say about Hamilton, and thinks the local hero has a good opportunity. "He's a very fast driver, exciting to watch, and the car he's got is as good as any of them. He's in with a good chance." Hamilton started his career racing karts in Rye House Hertfordshire and is certain to have tens of thousands cheering him on Sunday.
The British Grand Prix is the culmination of a full weekend of events at the Silverstone Circuit that starts on Friday. Almost 300,000 fans attended the weekend of racing in 2012 and similar numbers are expected this weekend.
Author: David Newman from Mercedes-Benz Hertfordshire
About Mercedes-Benz Hertfordshire - L & L Automotive
L&L Automotive is the driving force behind a dynamic retail network aimed at enhancing sales and after sales services for the region's existing and prospective Mercedes-Benz, AMG and smart customers.
Encompassing retail outlets in Bishop's Stortford, Hertford and Stevenage, the group is operated by L&L Automotive – a company boasting a lengthy and successful history.
L&L's Mercedes-Benz businesses moved into Hertfordshire in July 2002, when it was selected as one of Daimler UK's key business partners in establishing a revitalised national retail structure.
L&L Automotive. is a company registered in England and Wales with company number 4415393
VAT No. 794 6047 92
Mercedes-Benz of Stevenage : 01438 737800
Mercedes-Benz of Bishops Stortford : 01279 719333
Mercedes-Benz of Hertford : 01992 514444