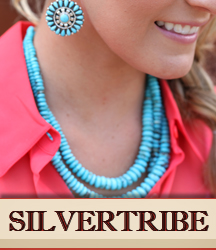 Phoenix, AZ (PRWEB) August 12, 2012
http:// Southwest jewelry is booming in popularity among consumers this summer, thanks in part to breezy summer styles that flirt with texture and bold color. Actress and Ann Taylor spokesmodel Kate Hudson recently told the Washington Post that turquoise jewelry was among her favorite accessories.
In response to this season's bright hues and chunky accessories, premium online jewelry retailer SilverTribe has added new turquoise designs to its extensive collection. The turquoise trend is expected to continue, as Southwest jewelry can just as easily be paired with classic blue jeans or floral print dresses when clothing designs change.
"Vibrant colors may be one of this season's hottest fashion trends, but turquoise jewelry is timeless," said SilverTribe spokesperson Chris Anderson.
The Southwestern U.S. is one of the leading producers of mined turquoise, as the stone in its raw form is found near copper deposits. The beautiful veins that often run through a piece of polished turquoise are natural deposits of aluminum or copper.
SilverTribe.com offers a variety of turquoise jewelry that highlights the natural beauty of the stone, from bracelets and earrings to larger pieces such as belt buckles and watches. "SilverTribe's WhiteRock collection pairs turquoise with opal and other native stones for a look that reflects the variety of color found in the desert," Anderson explained. "These pieces also coordinate with many clothing styles and color palettes."
Among Native American tribes of the Southwest, turquoise is known as the "sky stone." The name is derived from an ancient myth about a drought-plagued population that prayed for rain and was rewarded with tears of the blue-green stone that poured from the heavens.
In tribute to the legend, turquoise is sculpted into teardrop shapes for earrings and squash blossom necklaces. "Teardrop necklaces and earrings are exceptionally popular because of their chic, modern look," said Anderson. "They complement any style, and can even be used as bridal jewelry to add a splash of unexpected color or highlight a bride's pear- cut solitaire ring."
To learn more about SilverTribe's growing collection of turquoise jewelry, visit http://
http://www.silvertribe.com/Turquoise-Jewelry.