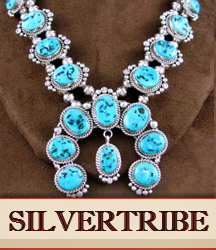 SiverTribe is offering great deals on a massive selection of native American jewelry.
Phoenix, AZ (PRWEB) August 26, 2012
Native American jewelry styles are increasingly sought after in both traditional and modern designs and SilverTribe.com is again adding new items to its collection at discounted prices.
For more than a decade, SilverTribe has offered a leading selection of American Indian jewelry inspired by Southwestern tribes such as the Navajo, Zuni and Hopi.
"We're dedicated to offering an array of beautiful styles and are happy to announce we'll be expanding that collection throughout the fall fashion season," said Chris Anderson, spokesman for SilverTribe. "Whether you know the ins and outs of Southwest fashion, or you are just getting started, we're sure to have the right addition for your collection."
SilverTribe values customer input and has earned a flawless reputation for prompt and thorough customer service. Preferred Members who sign up by entering an email address are also invited to contribute to the site by submitting reviews that help other visitors choose the right products for their collection.
"At SilverTribe it's important for us to keep the lines of communication open," Anderson said. "We wouldn't be the company we are today without the feedback and opinion of our customers. We always strive to offer the best products and the best customer service in the industry."
The retailer is also expanding its collection of Navajo jewelry, which includes squash blossom necklaces, conch belts and beautiful bracelets and earrings. The tribe is known for its immaculate silver work and use of large, chunky turquoise stones.
SilverTribe also carries a massive collection of Zuni jewelry at discounted prices. This selection includes multicolor jewelry that is handcrafted using turquoise, opal and other beautiful stones to create stunning mosaics that reflect the vibrant colors of the Southwest.
Anyone interested in learning more about the Native American jewelry sold at SilverTribe is encouraged to visit http://www.silvertribe.com/Turquoise-Jewelry. Every order will ship to any U.S. address for free.