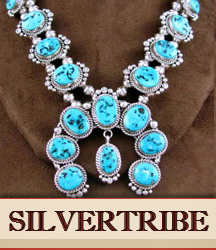 Turquoise jewelry is expected to lead the way in fashion this fall.
Phoenix, AZ (PRWEB) August 20, 2012
Native American jewelry is making a huge impact on the summer fashion market and the online leader in American Indian fashion and art predicts that trend will continue well into the fall.
SilverTribe continues to update its massive collection of turquoise jewelry to keep up with growing demand while offering a variety of styles to match any budget or style. Whether shoppers are in the market for modern, edgy designs of traditional styles that reflect the history and artistry of Native American tribes, customers will always find the right item at a great price.
"Summer is on the way out, but turquoise jewelry is only growing in popularity as the fall fashion season nears," said SilverTribe Spokesman Chris Anderson. "It's time to look ahead and secure that perfect piece while it's still in stock."
Despite huge demand for turquoise, SilverTribe has been able to keep a huge supply in stock and offer prices well below the industry average. Visitors will not only discover cool blue turquoise necklace designs, but a wide variety of multicolor jewelry that captures the oranges, browns and blues of a Southwestern autumn sunset.
"There's nothing average about our collection of turquoise and multicolor jewelry," Anderson said. "Our products are inspired by the spirit and creativity of Southwestern tribes, including the Zuni, Navajo and Hopi people."
In the Navajo culture, turquoise has been considered a sacred stone since prehistoric times and even plays an important role in the tribe's religion and spiritual ceremonies. Giving turquoise as a gift is believed to transfer good fortune and positive energy to the person receiving the stone.
SilverTribe is offering free shipping to all U.S. addresses and those who sign up as a Preferred Member on the site will have access to exclusive offers and deals to save even more.
To learn more about turquoise jewelry styles or to purchase a piece, visit http://www.silvertribe.com/Turquoise-Jewelry.