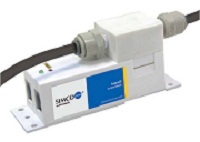 Hatfield, PA (PRWEB) July 28, 2011
The Ioncell In-line Ionizer enables excellent performance in longer-length delivery lines by overcoming traditional ion recombination limitations; enabling focused ionized air to be delivered to previously inaccessible locations.
The Ioncell provides powerful ionization through output tubes up to four feet in length. The output tube can be split to service multiple locations from a single ionization source. Various air knife and ring output applicators are also available. The low voltage 24VDC input can power up to 6 Ioncell units in a daisychain configuration.
Simco-Ion is the worldwide leader in electrostatic technology offering advanced solutions for a wide range of industrial applications. With a dedicated focus on continuous improvement, Simco-Ion is developing and introducing new and advanced products designed to improve productivity through enhanced system performance and operation. Worldwide sales support provides unsurpassed customer service and application analysis that continues to drive product excellence. Simco-Ion is part of Illinois Tool Works Company, a diversified manufacturer of highly engineered components, industrial systems and consumables with annual revenues of $14.4 billion. The Company consists of approximately 800 business units in 57 countries and employs some 59,000 people.
For more information, visit simco-ion.com.
###