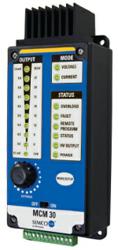 Hatfield, PA (PRWEB) November 29, 2011
Simco-Ion's new MCM 30 compact and lightweight electrostatic charging generator supplies high-voltage for a variety of charging bars and charging applicators used to electrostatically bond various types of materials. The compact size and 24V input allows for the generator to be installed near applicators and charging bars, which minimizes the need for long high-voltage cables. Operation can be manually switched to voltage or current mode to suit the application. Shock resistant and weighing less than two lbs., the MCM 30 is ideal for direct-mounting to gantry or robot arms in automatic stack pinning processes. The LED-lit front panel indicates the unit's operating condition and displays the level of adjustable output up to 30 kV at 1 mA. Available in positive and negative polarities.
Simco-Ion is the worldwide leader in electrostatic technology offering advanced solutions for a wide range of industrial applications. With a dedicated focus on continuous improvement, Simco-Ion is developing and introducing new and advanced products designed to improve productivity through enhanced system performance and operation. Worldwide sales support provides unsurpassed customer service and application analysis that continues to drive product excellence. Simco-Ion is part of Illinois Tool Works Company, a diversified manufacturer of highly engineered components, industrial systems and consumables with annual revenues of $14.4 billion. The Company consists of approximately 800 business units in 57 countries and employs some 59,000 people.
###