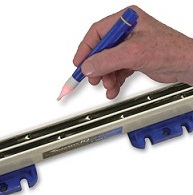 Hatfield, PA (PRWEB) October 19, 2011
Simco-Ion introduces the new TensION Voltage Detector. The TensION Voltage Detector enables the user to check both AC & DC static neutralizing and electrostatic charging products. Without making contact with the actual equipment, it provides an easy and safe way to check if high voltage is present. The tip of the TensION Voltage Detector illuminates when high voltage is detected, providing an immediate indication that the equipment is energized.
Click here for more information.
Simco-Ion is the worldwide leader in electrostatic technology offering advanced solutions for a wide range of industrial applications. With a dedicated focus on continuous improvement, Simco-Ion is developing and introducing new and advanced products designed to improve productivity through enhanced system performance and operation. Worldwide sales support provides unsurpassed customer service and application analysis that continues to drive product excellence. Simco-Ion is part of Illinois Tool Works Company, a diversified manufacturer of highly engineered components, industrial systems and consumables with annual revenues of $14.4 billion. The Company consists of approximately 800 business units in 57 countries and employs some 59,000 people.
###