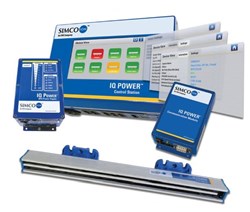 Hatfield, PA (PRWEB) August 06, 2013
Simco-Ion is proud to introduce the next level of innovative static neutralizing performance with IQ Power. The IQ Power Static Neutralizing System is an unparalleled lineup engineered with the technology that brings complete monitoring intelligence within a user friendly interface. Designed for use in rugged industrial applications and leveraging many patented features, IQ Power provides exceptional ionization performance.
This fully integrated, modular system makes installation a snap. No complicated software to install or maintain, and the system is fully serviceable. Security enabled, configurable parameters allow the user to understand and control their static neutralization challenges through a user friendly interface and microprocessor controlled touch screen.
Incorporating the latest in ionization technology, the IQ Power's Control Station is the technological core of the system. Single point monitoring capability for up to 10 neutralizing positions with a full color touch screen, the Control Station provides the ability to control the system either globally or by device. It can also provide full power and communications for up to 6 neutralization stations. Great for limited power sources.
Three balance control modes allow the user to optimize the system to suit their application. Patent pending Auto-Tune mode optimizes the system through live reading of current web conditions. Fixed mode offers optimization through average web conditions, while Manual mode allows users to adjust output settings.
For critical areas requiring data logging, the Control Station offers user selectable time interval data points and event logging capabilities. Simple data retrieving methods via USB or Ethernet based FTP for ultimate convenience. Several relay output choices available to suit desired alarm methods for streamlined operation and maximum productivity. Global and individual BPS relays are accessible for both warning and fault user selectable alarm thresholds.
The IQ Power System offers 4 bar varieties in 85 different lengths to suit the application for speeds up to 3000 fpm or operating distances up to 30 in. The full system is also available for class 1, div.1 hazardous location installations.
For the editor: Simco-Ion is the worldwide leader in static control technology, offering custom solutions for a wide range of industrial applications. With a focus on continuous improvement, Simco-Ion is dedicated to developing advanced products designed to improve productivity through enhanced system performance and operation. Worldwide sales support provides unsurpassed customer service and application analysis that continues to drive product excellence. Simco-Ion is part of Illinois Tool Works Company, a diversified manufacturer of highly engineered components, industrial systems and consumables with annual revenues of $14.4 billion. The Company consists of approximately 800 business units in 57 countries and employs some 59,000 people.
Simco-Ion * (215) 822-6401 * customerservice(at)simco-ion(dot)com * http://www.simco-ion.com