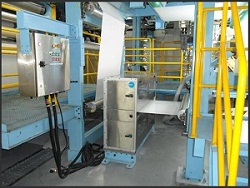 Scotland, UK (PRWEB) January 11, 2013
Teknek's Product Manager, Roy Cannon, has published a new article that explains how installing contact cleaning machines into a packaging line helps increase quality, which ultimately leads to greater profitability and happier customers.
Printers and converters must process materials that can be challenging and rewarding in equal measure, and that's certainly true when it comes to processing the PU coated paper used in drinks packaging.
All drinks packaging is paperboard based and then plastic coated through an extrusion process, and frequently laminated with various materials and finishes designed to preserve the container's contents.
Even as recently as a few years ago there was room in the market with its own defined class of buyer, for both the producer of value-added products that could command a higher price, and the no-frills operator.
However, we all now operate in a global marketplace, with all that entails. Fewer but larger international groups continue to erode the supplier base with more converters chasing fewer customers.
The entire article can be read in Package Print Worldwide.
Teknek is a global supplier of contact cleaning equipment for a number of sectors including PCB, SMT, converting, printing, decorative surfaces and medical packaging. The equipment helps manufacturers increase production yields and reduce wastage by removing contamination. Over 90 percent of Teknek's equipment is exported. Teknek Americas (Simco-Ion) is located in Hatfield, Pennsylvania. http://www.teknek.com http://www.simco-ion.com