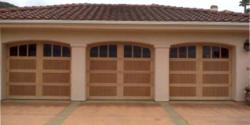 We find creative ways to solve problems.
Lancaster, CA (PRWEB) July 31, 2011
If a homeowner has a large SUV that won't fit into a seven-foot high garage with a roll-up door and other garage door companies say they just can't help – call Archway Garage Door Service.
"We find creative ways to solve problems; for example, we can get a roll-up door installed in a garage with a seven-foot ceiling and you can still park your SUV in the garage," says founder Rick Burk, adding that once they went as far as changing antennas on cars to get an SUV to fit.
Archway Garage Door Services is offering free in-home estimates for customers during the summer months so homeowners can discover what makes this company so special.
Unlike some garage door companies, this Lancaster-based contractor doesn't insist homeowners purchase a new garage door or replace a garage door opener, but makes recommendations to get the garage door operating while striving to stay within a customer's budget.
In addition, Rick and his partner, James, do all the work themselves. When a client calls their business, the person they talk to on the phone and the one who shows up at their door will be one of the owners – not some high pressure salesperson.
Archway Garage Door Service prides itself in honesty, reliability, and professionalism. "Rest assured we're here for years to come," adds Rick.
Their company is fully licensed and bonded, personally committed to the community, provides quality workmanship, and same-day service with no extra charge for holidays and weekends. No wonder Archway Garage Doors has become successful even during these tough economic times.
For more information, visit their website at http://www.archwaygaragedoors1.com or their profile on BuildZoom.
About Archway Garage Door Service
Archway Garage Door Service is a locally owned and operated business specializing in garage door and opener sales, repair, and service. Founder, Rick Burk has been a licensed contractor since 1989 and the business is fully licensed and bonded. Archway Garage Door Service repairs broken springs, installs new doors, replaces damaged door panels, and services all major brands of doors and operators. Their offices are located in Lancaster and Simi Valley and the business serves Thousand Oaks, Moorpark, West Lake Village, Newbury Park and Agoura Hills as well.
###