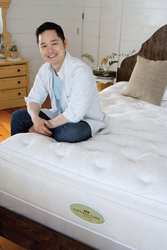 Atlanta, GA (Vocus) April 23, 2010
Simmons Bedding Company and environmental lifestyle expert Danny Seo have joined forces to help the millions of Americans who suffer from sleep disturbances as a result of allergies. Although most people equate allergies with hay fever and outdoor triggers such as pollen, indoor allergens are also a major problem. Indoor allergens' effect on sleep is profound - allergy sufferers may experience insomnia or difficulty breathing during the night; plus, allergies can increase the tendency to snore. Thankfully, Simmons and Seo, who have partnered to create the Natural Care® collection of eco-friendly mattresses and pillows, are offering allergy sufferers some relief this Earth Day with a list of tips for reducing allergens in the bedroom.
"For people with allergies, Earth Day is the perfect time to consider how a greener, more natural bedroom environment may help alleviate allergy symptoms," said Seo, author of the Simply Green book series. "A good night's sleep is an important element of overall health, and many individuals may be experiencing diminished sleep quality due to allergens in their mattresses, pillows or drapes. Eliminating symptom-triggering items and replacing them with products that naturally resist allergens, such as a Natural Care® mattress from Simmons, may help a person obtain more restful sleep."
For consumers looking to create a more hypoallergenic bedroom, Simmons and Seo have the following suggestions:

Bed basics. Look for mattresses that contain natural materials, such as natural latex or foams made with plant-based sources. Natural latex, found in Simmons' Natural Care® collection, is innately hypoallergenic and resists the dust mites, mold and mildew that can trigger indoor allergies.
Freshen the pillows. Natural latex or synthetic pillows will naturally resist dust mites but should still be replaced every two years. To maintain healthy pillows in between purchases, freeze them overnight to kill dust mites.
Dress the bed properly. Choose a cotton mattress pad to protect your mattress. Opt for organic cotton or natural fiber sheets, particularly those made with sustainable practices, which may also help with allergies and chemical sensitivities.
Clean the air. Some air purifiers may emit ozone, a pollutant that can aggravate allergies, back into the air. Instead, use houseplants to naturally clean the air. Pick plants that thrive on neglect, like spider plants or ivy, and boost their natural metabolizing properties with a plant purifier.
Pick your paint. Select paint with zero volatile organic compound, or VOC, emissions. Among other symptoms, the U.S. EPA advises that VOCs may cause nose and throat irritations, headaches and allergic skin reactions.
Keep it natural. Avoid fragrant sheet sprays, candles and air fresheners that "mask" odors by coating the inside of your nose with a chemical. Try room sprays made from essential oils instead.
"Buying old furniture at a flea market or yard sale can be a great way to go green, but mattresses are one item that should not be reused," added Seo. "By purchasing a mattress made with new, more natural materials, consumers can feel confident that they are making a healthy and environmentally responsible choice."
Simmons' Natural Care® mattress collection is available at a variety of bedding and furniture retailers across the United States. To celebrate Earth Day and the growth of eco-friendly sleep, Simmons is introducing the new Natural Care® by Danny Seo™ Forevergreen™ model at JC Penney this month. The new model allows consumers to experience a quality green mattress at an unbeatable price. For more information about the Natural Care® collection, visit http://www.naturalcarebed.com.
About Simmons Bedding Company"
Atlanta-based Simmons Bedding Company is one of the world's largest mattress manufacturers, manufacturing and marketing a broad range of products including Beautyrest®, Beautyrest Black®, Beautyrest® NxG®, Beautyrest Studio™, BeautySleep®, ComforPedic by Simmons™, Natural Care® and Beautyrest Beginnings™. Simmons Bedding Company operates 19 conventional bedding manufacturing facilities and one juvenile bedding manufacturing facility across the United States, Canada and Puerto Rico. Simmons Bedding Company also serves as a key supplier of beds to many of the world's leading hotel groups and resort properties. Simmons Bedding Company is committed to developing superior mattresses and promoting a higher quality sleep for consumers around the world. For more information, visit Simmons Bedding Company's Web site, http://www.simmons.com.
Forward-Looking Statements:
This press release includes forward-looking statements that reflect our current views about future events and financial performance. Words such as "estimates," "expects," "anticipates," "projects," "plans," "intends," "believes," "forecasts" and variations of such words or similar expressions that predict or indicate future events, results or trends, or that do not relate to historical matters, identify forward-looking statements. The forward-looking statements in this press release speak only as of the date of this press release. These forward-looking statements are expressed in good faith and Simmons believes there is a reasonable basis for them. However, there can be no assurance that the events, results or trends identified in these forward-looking statements will occur or be achieved. Investors should not rely on forward-looking statements because they are subject to a variety of risks, uncertainties, and other factors that could cause actual results to differ materially from Simmons's expectations. These factors include, but are not limited to: (i) compliance with covenants in, and any defaults under, our 11.25% senior secured notes indenture and our asset-based lending (ABL) credit agreement; (ii) the potential adverse impact of our post-bankruptcy structure on our business, financial condition, liquidity, and results of operations; (iii) interest rate and credit market risks; (iv) competitive pressures in the bedding industry; (v) general economic and industry conditions; (vi) our ability to launch new products on a timely basis, the success of our new products and the future costs to rollout such products; (vii) legal and regulatory requirements; (viii) our relationships with, exposures to credit risk and viability of our suppliers, significant customers and licensees; (ix) fluctuations in our costs of raw materials and energy prices; (x) our ability to hold or increase prices on our products and the related effect on our unit sales; (xi) an increase in our return rates and warranty claims; (xii) our labor relations; (xiii) encroachments on our intellectual property; (xiv) our product liability, intellectual property and other litigation claims; (xv) our level of indebtedness; (xvi) foreign currency exchange rate risks; (xvii) our future acquisitions; (xviii) our ability to achieve the expected benefits from any personnel realignments; (xix) higher bad debt expense as a result of increased customer bankruptcies due to instability in the economy and slowing consumer spending; and (xx) our ability to maintain sufficient liquidity to operate our business. We undertake no obligation to update or revise any forward-looking statements, either to reflect new developments or for any other reason.
Media Contact:
Katie O'Neill
Three PR
404-835-4527
koneill(at)3atlanta(dot)com
###