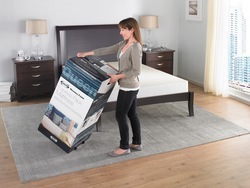 According to a recent MidMissouri.com article titled "Bed bugs force caution at thrift stores," "Many people get these unwanted visitors by buying second hand mattresses and furniture at thrift stores."
Houston, TX (PRWEB) September 30, 2010
Two new Simmons Beautyrest Mattresses afford budget-conscious consumers the opportunity to furnish their guest rooms, kids' rooms and second homes with brand new mattresses for about the same price as a new one. In an effort to save precious pennies, more individuals are shopping at thrift stores than ever before. With a bedbug epidemic sweeping the nation, however, some second hand mattress shoppers are getting more than they bargained for from their replacement bedding.
Home and Bedroom, the leading online retailer of quality Discount Bedroom Furniture, has added these new value and convenience oriented bedding choices. Because the the Simmons Beautyrest Elements Mattress Express Pack and the Simmons Memory Foam Mattress Express Pack can be rolled up and shipped by FedEx rather than furniture delivery truck, they can be delivered straight to customers' doors yet save them up to $200 in shipping costs.
According to a recent Mid Missouri.com article titled "Bed bugs force caution at thrift stores," "Many people get these unwanted visitors by buying second hand mattresses and furniture at thrift stores." One expert cited in the article said, "It's not a good idea to buy used furniture or bedding at thrift stores, garage sales or websites like Craig's List because bed bugs could be crawling in the cracks and crevasses of the cushioning."
Just how bad has the bed bug epidemic gotten? Earlier this month a WHAS 11 news report pointed out, "Perhaps the strongest indication of a problem is that the mattress business has been booming in the last month and a half."While all this paranoia may be sparking a temporary jolt in the retail sector, it's putting a dent in the wallets of consumers who are still cash-strapped from the lingering recession.
Two new Simmons quality mattresses at the value end of the spectrum are easing bed bug–worried Americans' minds without breaking the bank. The Beautyrest Elements Packs and Memory Foam Express Packs offer budget-minded consumers the same thick, plush profile, luxurious quilted knit cover and warranty they've come to expect from the Simmons name with the added convenience of a fold-up construction that makes them easier to set up and much more affordable to ship.
These mattresses join the Simmons Beautyrest World Class, Simmons Beautyrest Anniversary Mattresses and the Simmons Beautyrest Exceptionale, all of which create a superb sleeping experience with their Super Pocketed Coil® springs system. The Express Packs are the latest way in which Simmons is celebrating 85 years of mattress innovation. Also available towards the top of their line are the Simmons NxG Mattress line which offers revolutionary Advanced Memory Foam Technology.
To learn more about how to affordably furnish a guest room, kid's bedroom or second home with a new mattress that's guaranteed to be bed bug free, see Home and Bedroom's full line of Simmons Beautyrest World Class Mattresses, Anniversary, Exceptionale and NxG lines, visit Home and Bedroom Furniture online at http://www.home-and-bedroom.com/, and use savings code "expresspack " to enjoy an extra 10 percent off until April 30th.
# # #