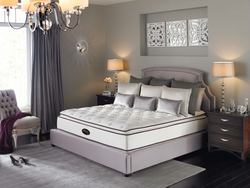 'Tweet For Sleep' is part of our ongoing series of unique social networking promotions that is enabling Simmons to communicate directly with consumers so they are more engaged with the Simmons® and Beautyrest® brands
Atlanta, GA (Vocus) February 9, 2010
If you're not getting a good night's sleep or your old mattress is so worn out that it keeps you up at night, Simmons Bedding Company wants you to tweet about it!
The Simmons® Beautyrest® "Tweet For Sleep" sweepstakes, running through April 30, is an online promotion that lets sleepy consumers send a Twitter® message that automatically enters them in a sweepstakes to win a new Beautyrest® Anniversary™ queen size mattress valued up to $2,000. Those interested in entering the contest need only post a tweet about sleep that includes #simmonsbeautyrest and the URL http://bit.ly/beautyrest to participate. A weekly winner will be randomly selected during the 12-week contest, and any winners who buy a Simmons® mattress during the sweepstakes will be reimbursed for the cost of their purchase up to $2,000.
"'Tweet For Sleep' is part of our ongoing series of unique social networking promotions that is enabling Simmons to communicate directly with consumers so they are more engaged with the Simmons® and Beautyrest® brands," said Tim Oakhill, Simmons' executive vice president of marketing. "By using Twitter® as our sweepstakes method, we're leveraging an already popular online communications venue to expand Simmons' influence within the social media world while gathering intel regarding the true value people place on sleep. Given our increasingly online culture, we believe Web-based contests are a key way to reach new audiences and foster stronger relationships with existing customers, and we're committed to being a leader in this influential arena."
To enter the "Tweet For Sleep" contest, consumers must tweet a message stating what they would do to obtain a good night's sleep either from their personal Twitter® account or via the entry form on the sweepstakes Web site, http://contest.simmons.com. Participants may choose to post an original tweet, to re-tweet a variety of sample tweets listed on the sweepstakes Web site or to re-tweet another entrant's tweet—any of these options will result in an entry into the contest. In addition to posting tweets, visitors to the contest Web site may view a list of recent sweepstakes tweets, become a fan of Simmons on Facebook® and register for Simmons' e-mail newsletter, Better Sleep News.
Simmons will be hosting several online sweepstakes throughout 2010, and the company encourages consumers to visit http://www.simmons.com on a regular basis to check for news of future contests. For more information about the "Tweet For Sleep" sweepstakes or to enter the contest, visit http://contest.simmons.com.
About Simmons Bedding Company
Atlanta-based Simmons Bedding Company is one of the world's largest mattress manufacturers, manufacturing and marketing a broad range of products including Beautyrest®, Beautyrest Black®, Beautyrest® NxG®, Beautyrest Studio™, BeautySleep®, ComforPedic by Simmons™, Natural Care® and Beautyrest Beginnings™. Simmons Bedding operates 19 conventional bedding manufacturing facilities and one juvenile bedding manufacturing facility across the United States, Canada and Puerto Rico. Simmons Bedding also serves as a key supplier of beds to many of the world's leading hotel groups and resort properties. Simmons Bedding is committed to developing superior mattresses and promoting a higher quality sleep for consumers around the world. For more information, visit Simmons Bedding's Web site, http://www.simmons.com.
Forward-Looking Statements:
This press release includes forward-looking statements that reflect our current views about future events and financial performance. Words such as "estimates," "expects," "anticipates," "projects," "plans," "intends," "believes," "forecasts" and variations of such words or similar expressions that predict or indicate future events, results or trends, or that do not relate to historical matters, identify forward-looking statements. The forward-looking statements in this press release speak only as of the date of this press release. These forward-looking statements are expressed in good faith and Simmons believes there is a reasonable basis for them. However, there can be no assurance that the events, results or trends identified in these forward-looking statements will occur or be achieved. Investors should not rely on forward-looking statements because they are subject to a variety of risks, uncertainties, and other factors that could cause actual results to differ materially from Simmons's expectations. These factors include, but are not limited to: (i) compliance with covenants in, and any defaults under, our 11.25% senior secured notes indenture and our asset-based lending (ABL) credit agreement; (ii) the potential adverse impact of our post-bankruptcy structure on our business, financial condition, liquidity, and results of operations; (iii) interest rate and credit market risks; (iv) competitive pressures in the bedding industry; (v) general economic and industry conditions; (vi) our ability to launch new products on a timely basis, the success of our new products and the future costs to rollout such products; (vii) legal and regulatory requirements; (viii) our relationships with, exposures to credit risk and viability of our suppliers, significant customers and licensees; (ix) fluctuations in our costs of raw materials and energy prices; (x) our ability to hold or increase prices on our products and the related effect on our unit sales; (xi) an increase in our return rates and warranty claims; (xii) our labor relations; (xiii) encroachments on our intellectual property; (xiv) our product liability, intellectual property and other litigation claims; (xv) our level of indebtedness; (xvi) foreign currency exchange rate risks; (xvii) our future acquisitions; (xviii) our ability to achieve the expected benefits from any personnel realignments; (xix) higher bad debt expense as a result of increased customer bankruptcies due to instability in the economy and slowing consumer spending; and (xx) our ability to maintain sufficient liquidity to operate our business. We undertake no obligation to update or revise any forward-looking statements, either to reflect new developments or for any other reason.
For more information:
Christine Foster
three PR
404.835.4524
Katie O'Neill
three PR
404.835.4527
###