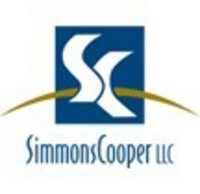 Our employees have always gone above and beyond when it comes to charitable activities, whether as part of the SimmonsCooper Employee Charitable Foundation or acting as independent volunteers in their respective communities
East Alton, IL (PRWEB) April 20, 2009
Habitat for Humanity and the National Alliance of Mental Illness (NAMI) are not usually grouped together, but both organizations will be beneficiaries of SimmonsCooper's upcoming Third Annual Dinner Auction. The event, hosted by the SimmonsCooper Employee Charitable Foundation, will be held on Thursday, May 21 at the Gateway Center in Collinsville, Illinois. Doors will open at 5:30 p.m., followed by a cocktail reception and silent auction at 6:00. Dinner will be served at 7:00, and the live auction and program will round out the proceedings at 8:00.
SimmonsCooper invites its employees and their families, along with local businesses and friends to the Habitat for Humanity/NAMI dinner auction. Tickets for the event cost $50.00 per person or $400.00 for a table of 8. The bar will be open, and business attire is required. Table sponsorship opportunities are available. Proceeds from the auction will provide funding to support Habitat for Humanity in Madison & Bond Counties, and the National Alliance of Mental Illness in Madison County.
"Our employees have always gone above and beyond when it comes to charitable activities, whether as part of the SimmonsCooper Employee Charitable Foundation or acting as independent volunteers in their respective communities," said SimmonsCooper founding partner, John Simmons. "We as a firm are proud of all the individual and collective charity efforts that our employees lead. We look forward with great anticipation to a lively auction and good dinner together."
The Lewis & Clark Habitat for Humanity is a non-profit housing organization that seeks to eliminate poverty housing and homelessness from Madison and Bond Counties, and to make decent shelter a matter of conscience and action. Through volunteer labor and donations of money and materials, Habitat builds and rehabilitates simple, decent houses with the help of the homeowner (partner) families.
The National Alliance of Mental Illness in Madison County (NAMI of Madison County) is a non-profit support group for the family and friends of persons with mental illness. It provides a monthly "Caring and Sharing" session, as well as educational sessions on mental illness. NAMI of Madison County provides a much-needed roadmap to recovery through the services it extends to the community.
About SimmonsCooper:
SimmonsCooper LLC is one of the country's leading asbestos and mesothelioma litigation firms. With offices in Illinois and California, the firm has represented over 2,000 patients and families affected by mesothelioma in nearly every state in the country. SimmonsCooper has pledged over $10 million to cancer research and proudly works with top mesothelioma medical experts throughout the country, supporting their work toward a cure. The law firm has also created a mesothelioma video library to provide information and support to mesothelioma victims and their families. Those in need of an experienced mesothelioma attorney and trustworthy information about the disease can visit http://www.simmonscooper.com for more details.
###