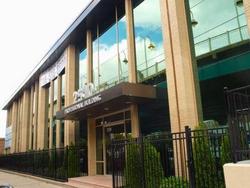 Bronx, NY (Vocus) September 27, 2010
Continuing its successful revitalization of commercial properties in the Bronx, Simone Development Companies has announced signing leases totaling more than 32,500 square feet of office and medical space at a newly renovated building at 2510 Westchester Avenue in the Westchester Square neighborhood.
Integrated Medical Professionals has leased 19,500 square feet for its urology division. Integrated Medical Professionals is a multi-specialty physician group operating in the greater New York Metropolitan area.
In other recent leases:

Catholic Charities leased 3,500 square feet for a counseling center.
Premier Home Healthcare leased 5,000 square feet for administrative offices.
PSCH Inc., a comprehensive human service agency, leased 2,500 square feet for administrative offices.
Isabel Rodriquez, M.D., leased 2,000 square feet for her medical practice.
Approximately 20,000 square feet of space is available with space starting from 1,000 square feet. For leasing information, please call Jim MacDonald at 718-518-8600.
Located just steps away from the Westchester Square Station, 2510 Westchester Avenue is ideally located for businesses and medical practices with direct access to bus and train service. It also has an on-site parking garage. The building, which is less than a mile from four major hospitals, is particularly attractive for medical practices.
The 60,000-square-foot building, which was the former Verizon Call Center, was acquired by Simone Development and completely renovated and modernized inside and out.
The success of 2510 Westchester Avenue builds on Simone Development's reputation as one of the region's leading developers of office, medical and industrial space. The company's largest commercial development is the highly successful Hutchinson Metro Center located in the Bronx. Formerly the site of the Bronx Developmental Center, the property was acquired by Simone and completely renovated into a first-class, 42-acre office complex featuring Class A office and medical space with world-class amenities and services. The first phase of 460,000 square feet was completed leased in less than two years. The second phase – Tower One - features 280,000 square feet of Class A space on nine floors with four floors of covered parking. Space at the Hutchinson Metro Center is available for immediate occupancy starting at 1,500 square feet.
###